Home > Movies > Interviews

The Rediff Interview / Nikhil Advani, director

Salaam-E-Ishq director reveals film's end

January 24, 2007


| | |
| --- | --- |
| Nikhil Advani | |
| | |
| | |
| | |
| | |
| | |
| | |
The buzz is huge. And Nikhil Advani has got his fingers crossed, the director having left Karan Johar's Dharma Productions to make this film solo.
Feeling heady, the filmmaker caught up with Komal Mehta and talked about Salaam-E-Ishq, releasing January 25.
What happened after Kal Ho Na Ho? How did Salaam-e-Ishq come to be?
The seeds for Salaam were planted in my head by Sunil Manchanda. He asked me what I thought of a film with six love stories. I was very skeptical at first, because the format for multiple stories in this country is very difficult for audiences to grasp. But the minute I started writing it, I realised that this is something I wanted to do.
What can you tell us about Salaam-e-Ishq?
It has six love stories, intertwined and interconnected. What is interesting about the film is its treatment and screenplay.
Special: Showcasing Salaam-E-Ishq
Are the characters related?
Yes, they are related in a certain way.
Akshaye Khanna sits in a taxi driven by Govinda in Delhi. Akshaye is getting engaged to Ayesha Takia, the sister of Juhi Chawla. Juhi is married to Anil Kapoor, an event organiser. He calls up Priyanka Chopra, an item girl from London, to perform in Mumbai. Priyanka is connected to Salman Khan, who in turn is connected to Akshaye and Govinda.
Sohail Khan and Isha Koppikar are the only couple not connected to anyone. I like to think of them like the chipmunk in Ice Age who is not connected to the main story -- but every time they come on screen, they make you laugh. I think every director likes to indulge, and these characters are my indulgences.
What are these six stories all about?
Salaam-e-Ishq has nothing to do with love and everything to do with what you should not do when in love. Salaam takes this whole notion of love being a sacred cow and flips it on its head completely. It is best summed up in one line -- 'One common problem: love.' A problem because when you're in love, you know it's a problem. It's a problem you can't live without and the only solution to it is also love. The only way to handle love is to love more.
The characters are simple. We have a taxi driver, an ambitious man, an item girl, a couple looking to elope, a man facing mid-life crisis and his wife, a commitment phobic man and his girlfriend, a girl looking for love and an American.
The most visible part of the movie is its huge star cast. How did you go about casting?
Salman wanted to do a film with me and I wanted the same. He was the first person I approached. Akshaye Khanna was the second person who said he'd do this film. I was very clear that I would not make this film without Anil Kapoor and Priyanka Chopra. The essential thing about Salaam-e-Ishq is that the casting is bang on. Salman was the one who suggested we take in Govinda.
I had Govinda in mind when I wrote the part of a taxi driver. As for Anil Kapoor, he becomes the character as soon as he's in the frame.
Salman is a rock star in real life and that is what he plays in the film, too. He is an enigma, and you don't know whether he is joking or serious. For Priyanka, the requirement was someone who could undergo this journey - a dancer, a comedian who was fairly ambitious but in the heart of hearts is just a sweet, simple Indian girl.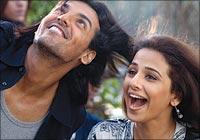 Vidya Balan and John Abraham make an interesting couple. Balan plays a practical, logical, and very Indian woman. The essential thing about John's role is that he starts off as a boy, and matures into a man by the end of the film. Vidya is already a woman in the film and looks after him. He learns from her what love is all about.
'John and Vidya are the best couple'
Is the movie inspired by Love Actually?
Yes, it is inspired by the British film. In fact, every multi-track, multi-starrer movie that I can think of -- Love Actually, American Beauty, Dil Chahta hai, Amar Akbar Anthony -- has inspired me.
So the film is not a copy?
Well, Salman is not the Prime Minister of India.
Salaam was written by you. Does that give you more creative freedom?
If you're passionate about making a particular film then you can do justice to it. Ramesh Sippy did not write Sholay, but his stamp is there in every frame of the film. As for creative freedom, I started writing Salaam because I realised there is a lot of me in this movie. One thing I hate is writing. It is the most exhausting process. I would prefer directing a bound script.
As a producer, did you choose love stories, for your production house's first release because it was a safe bet where Indian audiences are concerned?
Maybe I am, but I'm trying to tell six stories that I thought should be told. I don't think it's a conscious decision.
How did the breaking off from Dharma Productions happen?
I've no idea. I think there were a lot of misunderstandings and miscommunications. But how and when it happened, I don't think I've an answer to that.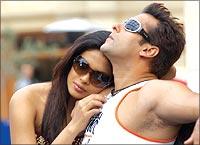 How was the experience working with Dharma Productions like?
Working for Dharma Productions and Yashraj Films is like working in a family. They have a very democratic setup and I think they give you lot of creative freedom. I think those are the kind of things I've taken with me while starting my own production company. Whatever Yash Johar has taught me in production is the basis of my own production company.
Was it a natural progression, moving on from being an independent director to starting your own production house?
From the time I've been an assistant, I've always done films where I've been able to handle production. It is very important for director to understand the concept of production because that is the only way that they are able to fulfill their creative requirements. So yes, it was a natural progression.
How has working with Aditya Chopra (Nikhil assisted him in Mohabbatein) and Karan Johar influenced your filmmaking?
They are such talented directors and scriptwriters that even everyday conversations permeate into your thought process. When you're making and writing your own film, there is a certain sur, or tone, that you incorporate in your scenes.
The most important thing Karan or Aditya bring to a table, or to a story, is clarity. They are very clear about everything, and can envision the whole movie right from the first to the last frame. They know exactly what they want to do. So when they are interacting with technicians or actors they instill a certain confidence in them. And that is the greatest strength they've given me. You cannot do a film like Salaam-e-Ishq, you can't bring actors like these on camera, until they have ultimate confidence in you.
So there are no negative feelings between you and Karan?
I think you should call up Karan and ask him that question.
What is your vision for your production house? Is it going to be open to outside directors?
I happen to be a very silent producer in Salaam-e-Ishq. I've been very lucky to have Kal Ho Na Ho as my first film and to have Sunil Manchanda and Mukesh Talreja, who have given me the same kind of opportunity as I got with Dharma Productions.
We're already working with outside directors. My vision for the production house is that I'm not controlling everything but the director is.
You recently adopted a daughter. How does this feel?
It's a wonderful thing. It something my wife and I decided sometime back. We finally summoned up the courage to just do it. There are so many neglected children in this country that it is better for us to give a home to one of them rather than to have our own.
Finally, does Salaam-E-Ishq movie have a happy ending?
Salaam-e-Ishq has got a very, very happy ending. And no one dies.