January 24, 2007 13:59 IST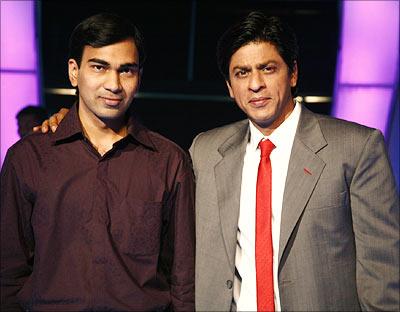 Meet the third participant on the new Kaun Banega Crorepati.
Mohit Mahipal hails from Hissar, Haryana. This 27 year old is a B Com graduate, is married and lives in a joint family. He is in business, dealing in photography goods like camera roll and paper to print photos.
"Everyone is a fan of Amitabh. His presentation was so nice that all liked it. In fact I had tried last season on KBC and got selected. I was supposed to come on the Amitabh-hosted KBC. But when Amitabhji felt sick Star TV promised me that whenever the programme starts, I will be given a chance and they kept their promise."
Adds Mahipal, "You can't compare both the KBCs. Amitabh is special in his own way. His elegance, his grace and his style is unmatchable. Whereas Shah Rukh is the powerhouse of energy -- his level is different altogether. He is very humorous and witty. You can't compare the hosts, but at the same time you can't compare both the KBC's, as this (new one) is more for the youth; it's energetic and lively. The language has also changed, its now more Hinglish."
Big B or SRK: Who rules the hotseat?
When Mahipal was selected for the first time he was thrilled about getting to meet Amitabh. "I have been seeing his movies ever since I was a kid. I knew Amitabh's name even before I learnt my parents' name. He is one whom everybody likes. I was very disappointed when I got to know that the show got postponed."
"But my excitement returned when I got to know that I would get to meet Shah Rukh, as Amitabh and Shah Rukh are the top two names of the Bollywood industry. I was satisfied and something is better than nothing."
Review: SRK works it, and how!
Mahipal feels Shah Rukh makes the contestant feel at ease. "You don't feel he is such a huge star when you are sitting in front of him. I am a very introverted person, but he even made me speak about myself and when I requested him to say Devdas dialogues in Haryanvi he immediately obliged. Shah Rukh could manage speaking Haryanvi in broken manner because of his film Paheli where he spoke in Rajasthani, very close to my mother tongue."
Review: No high-fives for SRK yet
Mahipal thought there would be lots of retakes, but SRK gave retakes only when his voice was not clear or not recorded properly. SRK, he says, did not fumble much and that he is a one-take man.
"Shah Rukh needs a split second to think and say something really humorous and funny. I think anyone in his place would need so much time to think, but that is not the case with him. He is very spontaneous and brainy as he does all this without a script."
His friends had warned him about SRK's 'attitude,' but when he met SRK he did not find him like that. The superstar was very friendly, and hugged Mahipal several times. He talked like a normal man and was not at all proud. He made Mahipal feel totally comfortable.
"He walked up to me and started talking. He asked me about my family, where I live, what I do. All this was not recorded. This he did before I sat on the hot seat, in between the break, to know me and to make me comfortable. When during my questions I got stuck, he came and massaged my shoulder."
Mahipal believes the programme is a hit. "I loved the new KBC. But from the beginning of the first season of KBC, I felt the format is rock solid and the hosts are damn good -- they have their great fan following. Therefore this has to be a big hit."
Special Section: All things KBC
Interview: Patcy N