January 23, 2007 16:22 IST


Text: Patcy N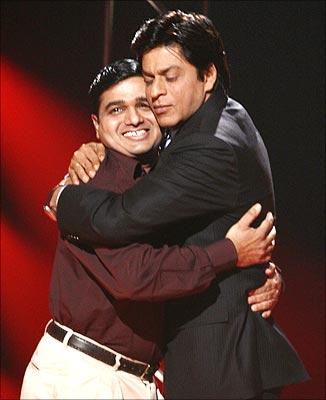 You watched him yesterday on the first episode of Kaun Banega Crorepati.
Rama Krishna Guggilla, 35, is a rollover contestant, and we will see his remaining episode today, January 23. Read on to find why this episode is literally a must-watch.
Nicknamed Guggs by Shah Rukh Khan, he is from the Khammam district in Andhra Pradesh. Guggs did his MBBS from the Osmania Medical College, Hyderabad. He wanted to go to the UK, but due to change in immigration laws he couldn't go. Right now, he is studying to go to the US. He is married.
Guggilla has not watched the very first Kaun Banega Crorepati episodes but did watch a couple of episodes of KBC Dwitiya with Amitabh Bachchan as the host. He tried to get in on that show, but couldn't get through.
According to Guggilla, "Amitabh and Shah Rukh both have their own style, both are from different generations. I did not have any personal interaction with Amitabh Bachchan so I cannot comment much about him, but he was a good host."
Big B or SRK: Who rules the hotseat?
Guggilla was never a fan of Shah Rukh Khan though he has seen few of his movies like Baazigar, Kal Ho Na Ho and others; he had no preconceived notions.
Review: SRK works it, and how!
He felt SRK was amazing and that he even looks younger and more handsome in person than on screen. "I find Shah Rukh Khan very friendly, brotherly and down to earth. Before meeting SRK, I thought he would have lot of airs and it would be difficult for people like me to talk to SRK. But once I met him, I found him very humble and cool. He was talking just like any ordinary person. I got to spend lot of time with him. He said lots of encouraging words to me. I shot on January 15 and 16."
Before the start of the shoot, the KBC music was being played, with Shah Rukh's new title track. Everyone was tapping their feet listening to the music. Khan, in his seat getting ready for the shot, got out and started dancing when he saw everyone enjoying the music.
Guggilla was thrilled, and couldn't believe he was seeing SRK perform live.
"Shah Rukh is very active, energetic and vibrant. The best part is he is very spontaneous, he really thinks on his feet. I had a very great experience with him. I was playing very well. We had a good interaction and had developed a good rapport with each other. Unfortunately, I couldn't answer one question. In fact I answered correctly initially but later changed it to the wrong answer."
Review: No high-fives for SRK yet
But the star made up for the error. "SRK felt so bad that he removed his wristwatch and gifted me. It is a Tag Heuer 2000 Aquagraph costing about Rs 128,000. I was so moved with this gesture that I was dumbfounded. I couldn't say anything. But once I came back I thought of giving him a gift back, it may not be as expensive as his but is very valuable to me and something I cherish a lot. It is a gold watch gifted to me by my wife on our wedding day. I am planning to meet Shah Rukh Khan this week, and I hope I get an appointment."
After the episode ended, Khan took him to his room. Guggilla thought it was a privilege as nobody was allowed to go to the room except the top brass. "He was so encouraging even then; he blessed me to become a good doctor. He told me that he use to constantly visit Toli Chowki in Hyderabad as a child during his summer holidays, as his mom is from Hyderabad and he has lots of relatives in Hyderabad. He also told me somethings about his past, his childhood and about how he has come up in life, which I am not sure, whether I can say. He may not like it."
"I personally felt he is a family man," Guggilla added. "He was very sentimental talking about his family. He was very concerned about my family too."
Ask Guggilla to rate KBC 3 and he said, "I can't say much about KBC 3. It's just one episode old but I liked it a lot. I feel the way SRK is hosting it is different from the previous one. I have seen couple of episodes of Who Wants To Be Millionaire. I found our hosts, both Amitabh and SRK to be the best. Plus now we have a KBC music video, which I think is first of its kind for this pattern of program. And SRK was great, he was rapping so well."
Special Section: All things KBC