Home > Movies > Interviews

The Rediff Interview / Bejan Daruwalla

Daruwalla dispels Manglik rumours

January 23, 2007


| | |
| --- | --- |
| Bejan Daruwalla | |
| | |
| | |
| | |
| | |
| | |
| | |
The Abhiwarya saga reached a high when Abhishek Bachchan got engaged to Aishwarya Rai earlier this month.
Speculations on the impending marriage have been running rampant ever since, ranging from compatibility to family issues.
Fuelling more speculations is the report that the Mars (Mangal) position in Aishwarya's horoscope has been an issue of concern. Over the past few months, the Bachchans and Aishwarya have been visiting various temples in India, rumouredly to ward off the bad effects of the planet in her chart. Newspapers even claimed she was married to a peepal tree for the same reason.
Noted astrologer Bejan Daruwalla spoke to Priyanka Jain about what the stars have in store for the couple. Excerpts:
You must be aware of Aishwarya and Abhishek's impending marriage.
I had earlier said that the period between November 1 to November 21, 2006 would be the most important phase of Aishwarya's life. It is during this period that she performed the pujas. Ash is Scorpio and Abhishek is an Aquarius. I do not have Aishwarya's personal horoscope so I cannot say if she is a Manglik.
What does Manglik mean?
Mangal means Mars, which is force and energy. This energy can either be positive or negative. There are 12 months in a year so there are twelve signs and therefore 12 houses in the kundali. When Mangal or Mars is in the 12th, 4th, 7th or 8 Th house, it normally, but not always, gives a bad effect, which is why it is called Mangli. If in the partner's horoscope Mangal is in one of the 4 houses then the bad effect is cancelled.
But newspaper reports affirm that she is a Manglik...
There are thousands of people in the world who are Manglik, but still lead a good life. There are lots of planets responsible for bad marriage. There is Rahu, Ketu, Shani, Venus, which is the symbol of marriage. Like in cricket there are 11 players and all must play well, likewise there are nine planets. It is the grouping and pattern of the planets, which must be taken into consideration. Other astrologers may feel differently.
So, does a Mangal give bad effects?
There are no guarantees of this. As in life, astrology too is not perfect. It is only 75% correct. Many pundits perform pujas and chant mantras for a Manglik, and sometimes they work and sometimes they don't. Some people even wear a coral ring for protection, but again there are no guarantees that this will work.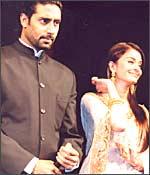 Does the partner of a Manglik person suffer?

Sometimes. But like I said before, astrology like art and science is not perfect.

If a Manglik girl marries into a family, does the family bear the repercussions?

I don't believe it; it's old fashioned. Modern astrology believes more in positive attitude than in the Mangli. Times have changed. Positive attitude towards life and the effort you in the relationships is what is important.

Is the general perception that people who are Manglik get married late in life true?

There is no proof or research done to support this theory. However, till the age of 28, the effect of Mangal is very powerful. So if you are Manglik, some astrologers say that one should marry only after the age of 28. But even here there is a difference of opinion.

Are you saying that astrology should be believed only for positive things?

One should have positive attitude towards life and one should pray to the Gods. There is a mantra for all planets in Indian astrology.

What is the mantra for Mangal?

Om gan ganpate namah. It is a very powerful mantra.

Is there any guarantee to escape the bad effects?

It depends on your attitude and your willingness to make something of your life. You cannot blame only the planets.