Advertisement
January 22, 2007


It started off as just another series of a tired, flagging reality show and ended up becoming the most internationally criticised television show of its time.

When I left Mumbai to go home to England for my Christmas holidays, I heard about the new series of Celebrity Big Brother and frankly, couldn't have been less interested. Shilpa's entry however was surprising -- now that I have lived in India for a year and witnessed the standard of living for the creme of society, the A and B list actors and the privacy within which they manage their lives and control their exposure to the masses -- and being locked up with the British Z list celebrity society with 24-hour surveillance was an interesting choice for her.

Maybe it was the large appearance fee, maybe the desire for international recognition after a dragging acting career in Bollywood or maybe a personal journey of self discovery.

One thing was for sure, the cultural and class clash between India's acting elite and England's manufactured celebrities was always going to prove good viewing.

It wasn't long before the fun started. The Goodies -- Jade and Jackiey, who felt they were the powerhouse of Big Brother (and sad as it is to say, Jade was the most popular and influential person in that house) -- were feeling challenged by the demure and stylish Shilpa (or Shippa, as Jackiey kept pronouncing it) . After an initial altercation with Jackiey (who The Sun referred to as a 'one armed lesbian'), resulting in her eviction, mouthy daughter Jade held Shilpa responsible. The gloves were definitely off and what followed was a most shocking display of modern day hatred, bullying and alleged racism.

For those of you who didn't tune in, let me tell you it was uncomfortable viewing. As the days progressed and the viewing figures made CBB history, so too did the complaints. Those sitting on the fence between plain bitching or bullying soon came down against Jade as her campaign gained momentum. Unable to win a battle (that had no base) with intelligence and skill, Jade realised she couldn't bring the savvy Shilpa down and had to resort to attacking her for her colour -- attacking her for the country she came from, mocking her accent and not wanting to eat food she had cooked.

One could argue that a one-off racist comment in a moment of provocation may be forgiven, but we were dealing with a daily sustained attack against Shilpa, one which the girls seemed to enjoy. After Jade's terrible outburst one evening, Danielle, another housemate, was seen giggling at how much she enjoyed the dialogue. Sadly for these girls, they were oblivious to the impact this would have on society at large as Shilpa became their daily entertainment.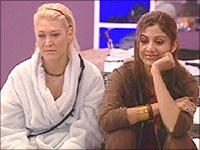 By now, England was up in arms and an average show no one cared for began to dominate every conversation -- with Tony Blair, Gordon Brown and Tessa Jowell all being dragged in. Poor Gordon Brown couldn't escape the questions on his tour to India and he ended up asking people to vote for fairness and show no tolerance to racism.
The government could do nothing, Ofcom the TV regulator whilst constantly reminding everyone of the number of complaints did nothing, Channel 4 watched its ratings soar and Endemol watched its share value rise. Finally Carphone Warehouse stuck their neck out and took some action. They suspended their sponsorship and most Britons breathed a sigh of relief as a stance was finally taken.
In this week's UK papers, the general consensus is that Channel 4 tolerated racism at a level unacceptable to most people for the sake of ratings and in recent polls, most Britons feel they should have taken action sooner. After Carphone Warehouse pulled their sponsorship, it was in the end the British public that had to put an end to this dreadful saga. In a defiant stand against racism the public showed their intolerance with a whopping 82% vote to rid the TV of Jade Goody.
Meanwhile, India took on a whole new perspective. Rather than taking comfort in the universal support against racism and for British Asians, the Indian media decided to turn on their own and started to accuse Shilpa of playing a game. Show after show focused on whether Shilpa was just being strategic playing the Brits of against each other, missing the far bigger issue of race relations in England.
Whilst the race issue left a bitter taste in the mouth for every British Asian, some Indian camps were virtually saying that for the money that Shilpa was earning she should endure the pain, racist or otherwise. I was as shocked by the views of the Indian media as by Jade's comments.
When I confronted friends in Mumbai about this attitude there were two schools of thought. The first one was that some Indians live in denial about racism, choosing to believe that their perfect worlds cannot be tarnished by this ugly disease. The other was a view most migrants in the 60s would have shared, that the price of living in the West would be racism and 'no pain, no gain.'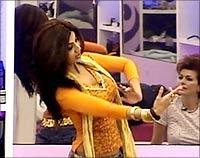 To all those who accepted the events of last week as normal behaviour in Western society, I'd like to say on behalf of most British Asians that we have earnt our place in British society. We make up a large percentage of that society, are decent law-abiding citizens in the main and treat everyone with the same respect we expect to be treated with. We accept racism exists in modern life but we do not tolerate it. In fact we do not tolerate any form of racism presented at any level and walk away from any one who expects we should. We do not apologise for our presence in England, we very much celebrate it and believe we add to the fabric of British life.

Since last Friday and Jade's exit, all is calm in the Celebrity Big Brother house but what now for all those involved?

Channel 4 will be remembered for putting huge controversy in the public domain and then choosing to do nothing about it. Ratings and controversy hungry, they let prevalent racism rise to the surface and fester. If it was a 'national debate' as C4 boss Andy Duncan cheekily announced, then once it was clear there was inappropriate behavior in the house, they should have put a stop to it. What if Jade hadn't been nominated for eviction ? Would we still be watching her insult the actress daily and call her Shilpa Poppadom and Shilpa F***awala, words that will now sadly enter British vocabulary.

Also, if it was such a storm in a tea cup, why the privileged private eviction for Jade? Not being made to face the crowds as she exited the house, being prewarned about British feelings towards her, being sent to a safe house proves that Channel 4 knew she had gone way beyond the line. Such protection was not offered to Shilpa.

Channel 4 now reviews it financial situation after a hugely lucrative opportunity turned sour. Friday's telephone poll revenues are going to charity, as is Jade's fee, to try to appease the British public. Still, the slur of tolerating racism for ratings may well sound the death knell for Big Brother.

Unfortunately for many Indians around the globe, their view of a racist Britain has been confirmed. The general consensus is that if a beautiful, intelligent girl like Shilpa can't cut it in England, then what hope for them? The concept that ignorant people like Jade Goody are few and far between does not reassure them and I do believe that despite the eviction, Britain's reputation as a fair and tolerant society has been impacted.

As for Jade, she will probably be destroyed by the very show that created her. As we stand today, most brands are running fast from any association with Jade Goody and despite her previous ability to sell merchandise, the association with her at present is a distasteful one. She underestimated the depth of feeling in the country that made her and whilst we loved her good old fashioned rags to riches story, we also hate bigots and bullies.

Lastly, I think Shilpa kept it together in a consistent nasty campaign against her. She is still oblivious to a lot of the material because it was said behind her back, and tried to do much damage limitation to save Jade's reputation -- and presumably also because she didn't want to be remembered as the girl who renewed the debate on racism.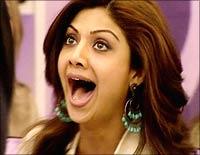 She has absolutely no idea about her international fame -- she has become the first Bollywood celebrity to have become a household name in England. She might not be working the red carpet like Aishwarya Rai, but is now definitely more famous than Ash could ever be in the West. And has generated enough media interest to keep the impending Ash-Abhishek nuptials off the front pages for days.
India should be proud that when Bollywood finally got to show its true colours to the Brits, it was done with style, dignity and tremendous depth of character. Shilpa has been a great role model for India and there is great pride amongst the British Asians in the UK. Decency won.
Whilst Shilpa sits in the Celebrity Big Brother house, she has no idea that she will go down in British TV history as the girl who gave Celebrity Big Brother its largest ratings, provoked international debate and saw the possible demise of Jade Goody. She will probably win the show as well as become a frontman for Indians and against racism all over the world. Not to mention the multimillion pound deals waiting for her story.
Nice work Shilpa, you deserve it.
British-born Dalbir Bains runs Mumbai-based boutique,
Boudoir London
.