January 22, 2007 19:31 IST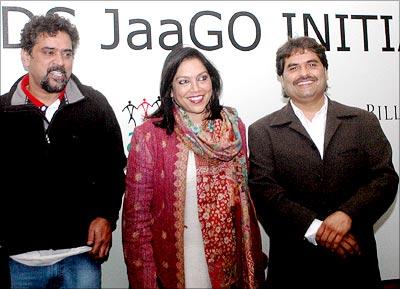 Top moviemakers Mira Nair (centre), Farhan Akhtar, Santosh Sivan (left) and Vishal Bhardwaj (right) joined hands to make short but 'informative and entertaining' films on HIV-AIDS in a bid to spread awareness about it.
They will make four 12-minute films featuring actors like Irfan Khan, Sameera Reddy, Raima Sen, Shiny Ahuja, Prabhudeva and Saroja Devi, which will hit the theatres in September.
The short films, a joint initiative of Nair's Mirabai films, voluntary organisations Avahan and Bill and Melinda Gates foundation, will highlight the social stigma attached to HIV-AIDS besides putting the spotlight on its prevention. With critically-acclaimed films like Monsoon Wedding and Salaam Bombay to her credit, Nair feels the short films starring actors will attract cine-goers and help spread the message more effectively.
"In India, actors are almost worshipped," said Nair. "The role of films and Bollywood stars in shaping public perception is enormous and our idea is to make more and more people aware about HIV-AIDS."
The idea is to make entertaining clips on AIDS and not to preach. "We do not want to bore them, but to entertain them to subtly convey the message that we all have to feel responsible towards the disease," said Bhardwaj, who has directed films like Makdee, Maqbool and Omkara.
This is the first time that noted directors are coming up with the idea of making informative documentaries on HIV-AIDS, otherwise the domain of Films Division, and even full-length movies on the disease like My Brother Nikhil and Phir Milenge had failed to click at the box office.
Photograph: Sondeep Shankar