Home > Movies > Reviews

SRK makes KBC work, and how!

Prem Panicker | January 22, 2007 22:36 IST



So now we know what the nation -- or at least that section of it that has access to cable television -- will be doing between 9-10 pm Mondays through Thursdays: watching Kaun Banega Crorepati or, more accurately, Shah Rukh Khan, in his latest avatar as game show host.

Disclaimer: I am no Shah Rukh fan; his acting style, to me, resembles nothing so much as badly set jelly. But as a live host, he really has no equal -- the qualities his closest friends say are his strengths as a person, are precisely what he brings to the table here.

Shortly before the premiere of KBC, circa 2007, I spoke to a cinematographer who has known him, and worked with him, extensively. He mentioned three traits: warmth, incredible energy, and a habit of talking 19 to the 12, with the gift of repartee thrown in.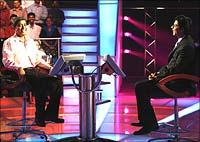 Warmth, and an ability to convey genuine empathy with a contestant's fortunes, made Regis Philbin, advancing age notwithstanding, an unparalleled host of KBC's original, Who Wants to Be a Millionaire.
Shah Rukh has both these qualities: he is warm as the weather, if not warmer; when he hugged carryover contestant Prasenjit Sarkar at the end of the latter's run, he held the hug long enough to have satisfied his closest friends.
And in his interactions with the contestants, there is -- or, as a competent actor, can portray -- genuine empathy, can suggest that he really wants the contestant to win the greatest amount possible.
Those two pluses would be enough to not just carry the show, but to lift it to a level higher than the previous anchor, Amitabh Bachchan, managed. But to this, Shah Rukh adds a run-at-the-mouth style laced with impromptu humour that has you chuckling even at the distant remove of your own home.
Those two traits -- humour and non stop chatter -- were in evidence right from the outset, when he segued into 'shudh' Hindi to underline the impossibility of speaking in it.
From then on, you upped the volume, and watched the show not so much for the contestants, but to make sure you didn't miss any of his impromptu moments.
Maybe it is good scripting, sort of like the guy who said he spends a lot of time preparing his impromptu remarks -- but his delivery is spot on, and there are occasional signs that he is riffing as he goes along -- like the time he walked around to the second contestant of the day and gave him a little massage to relax him.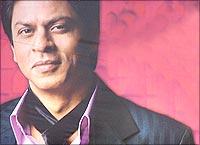 Where Bachchan came across as imposing, even aloof, Shah Rukh if anything swings to the other extreme -- his 'gimme five', his teasing Prasenjit Sarkar's wife and trying to get her to say 'All the best, I love you' to her husband at the start of the show, his insistence that a contestant who has had enough doesn't say I am quitting, but instead says I want to hug you (Main tumse gale milna chahta hoon) -- it is all guaranteed to create in the audience the sense of watching a favourite friend do what he does best: be the life and soul of the party.
There were little moments of ersatz magic strewn through the show; enough to ensure that a sizeable section of the population will, here on in, leave work a half hour early so as not to run the risk of being stuck in a traffic jam while the show is on.
So what's not to like? That tacky song that introduces the segment, for starters, with Khan cavorting in the midst of a bunch of under-dressed babes -- eminently avoidable, and if it is the regular intro to the show, I'll pass.
Overall?
When Super Millionaire was launched in February 2004, the then struggling network ABC struck gold, drawing an audience of 17/5 million viewers on average and earning the rating of the most watched TV program on debut night -- and also for the next three episodes.
With Shah Rukh helming KBC -- and, likely, getting better as he eases into this new role -- a few viewership records will likely tumble.
Oh, and by the way, SRK's KBC will also be aired on Vijay TV for those who want to watch it in Tamil.
Want to see this movie? Check out Rediff Movie Tickets!