| | |
| --- | --- |
| Randeep Hooda | |
| | |
| | |
| | |
| | |
| | |
| | |
Advertisement
January 19, 2007 14:19 IST


On the face of it, it may seem that director Vishram Sawant (who made D) may have taken a risk by casting a relatively new actor like Randeep Hooda to play the protagonist in Risk. But watch the film for a few minutes, and one cannot help but take notice.

Randeep plays an honest Maharashtra policeman, Suryakant Sattam -- a character loosely inspired from real life cop and encounter specialist Daya Nayak. The lack of flamboyance, his thick moustache and unshaven look makes him seem authentic.

The film starts in the way Hindi cop-underworld stories do -- talking about Mumbai, why people are attracted to it, the dark side of the city, a round of gunshots and people being killed at the drop of a hat. The plot is set in the first few minutes of the film.

Sattam is shown getting information from khabris (informers), killing criminals in cold-blooded encounters, returning home and doing chores as if nothing happened. But as the story proceeds, he is forced to get involved in the political-underworld nexus.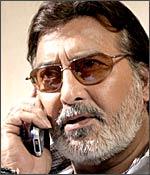 While the above is nothing new from what we have seen in the films of this genre, Risk keeps you on the edge of your seat throughout. The adrenaline rush that the policeman is going through rubs off on the viewer as well. His intense gaze while facing the opponent, and his body language add to the film's effects.
Then, there is Bhaijaan (Vinod Khanna), the underworld don. Dressed in white, with his salt and pepper beard, he is shown as a good-mannered don who talks with respect to his enemies as well. The only mistake or risk he takes is that he trusts Suryakant Sattam. The veteran actor does a good job in a half-baked role.
Sattam kills Bhaijaan's men and finds himself jailed for taking undue advantage of his uniform. With extreme precision and calculation, he plays a game with the don, gains his trust and brings his empire down. But in the process, he loses a lot himself.
Tanushree Dutta's character is not well etched out. There is a complete lack of chemistry between her and Hooda even during the romantic scenes. The only thing one can look forward from her is one item number that she does.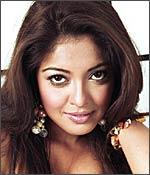 Seema Biswas as a corrupt politician, Makrand Deshpande and Zakir Hussain as the don's men, and Anant Jog as the don's rival have all played their roles well.
In a fast-paced film like Risk, Tanushree's scenes drag. The screenplay and direction by Vishram Sawant are worth applauding. He makes done-to-death cop-underworld genre interesting enough to grip you.
Rediff Rating: