Home > Movies > First Look

Spotted: AR Rahman in Toronto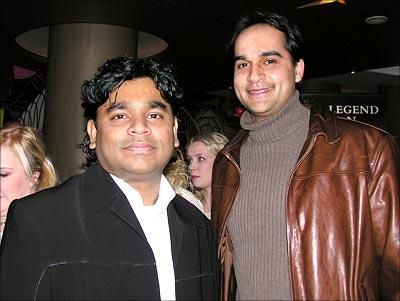 Reader Brian Leno had a lucky night.
What else would you call an evening when you run into none other than AR Rahman, in Toronto?
'As a westerner, I love Rahman's music and it was a thrill to meet him,' Brian writes.
We bet it was, Brian. Everyone's a Rahman fan.
If you encounter/meet/see film or television personalities and photograph them, please scan the photographs and
mail the pictures to us
. We will feature the best images right here on Rediff Movies.
Also check out: Other Stars Readers Spotted
In the picture: Rahman poses with Mohit Rajhans, the host of Canada's show program on Omni TV.