Advertisement
January 14, 2007 00:26 IST
It is a proud moment for the Indian film industry to have the world premiere of Guru happening outside India in Toronto," said Abhishek Bachchan. 

"It's a matter of great pride to show Guru, a labour of love, to the audience here," he said on Thursday from the podium of the historic Elgin and Winter Garden Theater, downtown Toronto, with well over 1,200 fans shouting, "Abhishek! Abhishek!" Invitees included Toronto City Mayor, David Miller.

"We are very happy and proud of the fact that you are the first people in the world to see this film" Bachchan said with entire cast of Guru standing behind him on stage.

He was introduced by film director Mani Ratnam who also invited Aishwarya Rai, music composer A R Rehman, film producer Bobby Bedi, cinematographer Rajiv Menon and Toronto-based film distributor Roger Nair to the stage.

Bachchan was wearing a black Nehru jacket and walked the red carpet with co-star Ash on his arm. She was glamourous in a champagne-coloured silk kurta ensemble.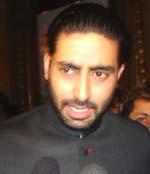 Toronto fans must have been disappointed that there was no announcement of their engagement. This reporter overheard Indian television journalists agreeing to not ask questions about their personal relationship. There were no questions about their love life flung at them by over 150 reporters, broadcasters, cameramen, photographers, who lined up from outside the theatre to inside the lobby.
Indian broadcasters from seven television networks were in Toronto, along with correspondents from the print media,  to cover the premiere of Guru.
Abhishek and Ash were three hours late. The cast were scheduled to arrive at 6 pm. Mani Ratnam, Bedi, Rehman, and others arrived at 7.30 pm. And the two main stars arrived at 9 pm.
To his credit, as he was invited to the podium, the first thing Abhishek did was to offer his "sincere apology for being late."
"I can't thank them enough for their love, good wishes and support," said Ash. 
"Today we have made history," said film distributor Roger Nair. "It is the first time Bollywood film has crossed over to the mainstream."
He said, "When this idea came into our heads that we should bring Bollywood into the mainstream, everybody told me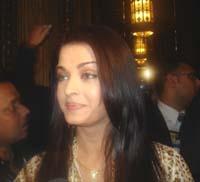 it is not going to happen." Standing on the podium and looking at the audience, Nair said, "I truly believe we have crossed over to the mainstream. Today we have made history and it is the first Bollywood film to cross over into the mainstream through us as the distributors."
When asked as to why he chose Toronto for the world premiere of the film, producer Bobby Bedi said, "Why not? Thirty per cent of our revenue comes from abroad."
Toronto, he says, has cosmopolitan ambience and a large South Asian movie-loving population.
Mayor Miller was first to take the stage. He announced, "The fact that superstars of Bollywood have travelled such a great distance to be present at this premiere indicates how important this event is. It further proves tonight, what most of us know: Toronto is an exciting and creative city where artists from around the globe come."
On behalf of all Torontonians, the mayor thanked the film producer and "everyone involved for having us at this event."
Guru is the first Indian film distributed by a Canadian distributor Roger Nair explained Miller. He said Nair was "instrumental in bringing this premiere to Toronto and helping us make history tonight," Miller added.
Over 1,000 fans waited outside in the street, opposite the front entrance of the  theatre, which the police had  barricaded, shouting and shrieking. Many of them were holding signs "We love you Aishwarya," "We love you Abhishek."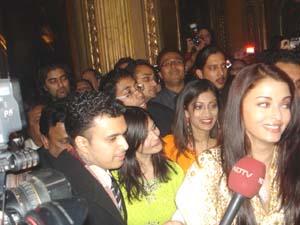 According to a Canadian daily, as Abhishek and Ash stepped out of their limo, "fans sent up a roar so loud it could almost have been heard in India." It must have actually been heard in India because of the presence of large number of Indian reporters and broadcasters, who arrived to cover the premiere of the Guru.
Because of the late start the two-and-a-half hour movie ended almost at midnight. There was hefty price tag of $100 to $500 for tickets to the premiere of Guru. But when the film opens at 12 Cineplex-Odeon theatres across Canada tickets would be priced at $10.
Nobody would reveal the sum collected through sale of premiere ticket. All 1,400 tickets were not sold out but estimates had it that event organisers would have raised somewhere between $250,000 and $300,000.
The big budget Guru is apparently was inspired by the rags-to-riches tale of India's leading industrialist the late Dhirubhai Ambani.
Photo Credit: Sanjeev Khullar