January 12, 2007 17:50 IST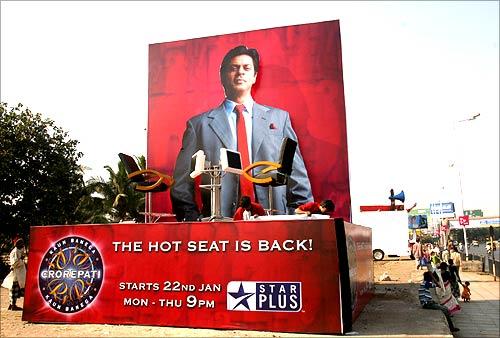 Do you want to participate in Kaun Banega Crorepati 3?
Do you want to know what it feels to sit on the famed hot seat?
Now, you don't need to dial a number to do so. Nor do you need to answer any questions.
Just hop across to the Causeway in Mumbai's western suburb, Mahim, whenever you have some free time.
The hot seat is waiting there for you. As is the anchor's chair. And, of course, the all important computerji (Will Shah Rukh Khan address it by some other name?).
As part of its publicity blitz for its flagship show, Star One has innundated Mumbai with hoardings (we won't mention the barrage of ads on television).
It has also erected a dummy stage, with realistic looking dummy props, at Mahim Causeway, that replicates the KBC stage.
And SRK -- or, rather, a huge hoarding of his -- informs you that KBC is back.
Now, will SRK be able to replicate Amitabh Bachchan's 'Lock kiya jaye?' charm.
That, we think, is another story altogether.
Text: Patcy N | Photograph: Sanjay Sawant