In today's world, religion and politics go hand in hand. Politicians spare no opportunity to play the religious card when the need arises. So when Anwar, a young Muslim youth, spends a night in a dilapidated temple to escape a downpour, a ruckus is truly expected.
But that is not the only aspect director Manish Jha seeks to showcase before the audience. The movie also deals with the relationships of the protagonist and those around him with love being the basic theme.
The story, set in Uttar Pradesh, shows how Muslims still feel alienated in the country, and the mindset of the majority that the community does not want to progress.
Anwar (Siddharth Koirala), a resident of Lucknow, falls in love with his tenant Mehroo (Nauheed Cyrusi). While Anwar is a simpleton pursuing his masters in Hindi (specialising in Hindu temples), Mehroo is an ambitious girl desperate to go to the US.
Anwar's best friend Master Pasha (Vijay Raaz), a skilled sketcher, tutors him on love -- Incidentally, he too has a tragic love story. He teaches him that true love is what Mira and Lord Krishna shared, and that Romeo-Juliet and Heer Ranjha are just stories. A mesmerised Anwar madly loves Mehroo and can't risk losing her. So when his Hindu friend Udit (Hiten Tejwani) snatches his lady love from him, all hell breaks loose.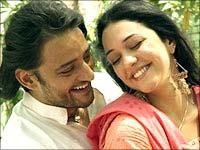 Tipped by Anwar, the girl's brothers kill the Hindu lover as the couple try to elope. The girl subsequently commits suicide, and Anwar feels responsible for her death. So he sets off on a journey to the unknown. However, life has more suffering in store for him as he gets labeled as a terrorist who has laid siege of a temple.
The local politician, who has not shown his face in his constituency since elections 5 years ago, sees this as a perfect opportunity to retain his seat. His communal dialogues seem akin to the often-heard rhetoric in real life. As the propaganda spreads, people throng the temple premises to kill the one who has dared to defile it. Soon, the scene becomes that of a village fair with entertainment programmes being organized by the politician to keep the people engrossed.
Meanwhile, the Superintendent of Police S P Tiwari (Yashpal Sharma) of the area is keen on getting over with the imbroglio. The reason -- his loving wife is a cancer patient in her final moments and there is no one with her except for his daughter. Another character facing a similar problem is Anita (Manisha Koirala), a TV journalist a la Barkha Dutt. She has just broken up with her husband.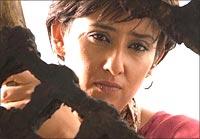 How Manish Jha weaves these different love stories -- showing the ups and down in their lives, coupled with religious equations in the country and how the ruling class takes advantage of these equations -- is what Anwar is all about.
However, the story has several loose ends. Yashpal Sharma and Manisha Koirala are wasted. Also, there was absolutely no need for an item sequence in the movie, and it turns out to be the final nail in the coffin for the rather slow-paced movie. The moviegoer can be pardoned for feeling desparate on his seat at times. Rajpal Yadav's comic role as Gopinath, a journalist who mistakes Anwar as Osama bin Laden, is a turn-off.
The saving graces are the music and cinematography. Leaving aside the item number, other tracks are haunting, yet hummable. Some shots are really well taken. In all, it can be said that the movie is strictly okay.
Rediff Rating: