Advertisement
January 11, 2007
As directors go, he's definitely outspoken. 

Mani Ratnam is all set to hit us with Guru, and a conversation with him gets really fascinating when the master filmmaker holds forth on his craft.

After the first part of our exclusive interview where he discussed all things Guru, here are some excerpts from the rest of his session with Shobha Warrier:

Part 1 of the Mani Ratnam interview: 'Abhishek was the first person I thought of'

Do the reactions of people really matter to you?

Of course. I am making films for the people, and so it does matter. I should reach out to people. I am trying to communicate with a story. It is very important for me that it reaches across to people.
Does it hurt you when people do not accept your film?
You feel bad only the first time. After that, it is easy. If a film hasn't done well, you feel that you haven't communicated properly. That is how I look at it. I do not doubt what I want to say even in films that haven't done well. The story I wanted to say then is a story I still want to say. Sometimes I say it well and sometimes, I don't do it correctly. Sometimes, even if it's subtle, it doesn't become fulfilling. Sometimes you feel the communication is not complete; you made an error, and the error is basically yours. When you become aware of it, it goes into the system.
Do you look back and analyse it?
No, you sense it. It is not as though I sit and analyse it. You sense it because you have been a member of the audience for long. You have been with the product for a long time, and know there are a lot of elements which are absolutely correct which will communicate, which are authentic, which are realistic and still entertaining enough -- but there is something that is not fully falling into place.
'Entertaining enough,' you said. Is entertainment very important in a commercial format?
Yes, in any format. Even in the artiest of films, they are trying to entertain but in a different fashion. They try to entertain your intellect. If I am being interviewed by you and I keep the conversation interesting, it is not degrading. It is not a mistake if you laugh at something I say, and I laugh at something you say.  It is just that we make the conversation a little more interesting. It doesn't mean we go away from the point; we just make it lively. So, entertainment is not a bad word.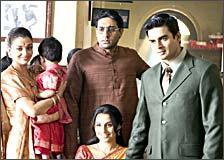 When you create a film, do you think of the audience? Or do you look at it purely as a means of self-expression?
You are always conscious of the people. You know you are talking to an audience. I watch films, so I know what it is to be there in a theatre as the audience. So I always want to communicate with them when I make films, but that is not the only thing. I also want to say something which I feel deeply, and which I feel I can connect with the rest of the audience. I should feel good about the film first and only then will you feel good about it. I am trying to come to that kind of a balance.
Can we call it a compromise?
No, not at all.
In order to make something that pleases the crowd, don't you have to make changes in your story, in the idea you want to express?
What I'm saying is that I'm aware of what people like, and what people want. To reach them, I am trying to talk in a language that can be understood. I am not talking to them in English, which I think is pointless. I am trying to say what I want to say without any compromise, but I am making the film within a mainstream, commercial format, and that is the language I am choosing to express my idea. And I'm trying to say what I want to say with entertainment, with songs, etc.
I don't think it is a compromise. I think I am trying to reach out without alienating the audience, without sounding intellectual. I am just trying to tell a story and through the story, I am trying to share any kind of emotion I felt towards something. I think the whole of India grows up listening to stories.
I grew up on the commercial film format. I have grown up all my life watching films and they have all been mainstream commercial cinema. In Tamil especially, there have been several brilliant directors who operated in mainstream -- Sridhar, Balachander, Bharatiraja, Mahendran and Balu Mahendra made brilliant commercial films without compromising their stance, without losing their voice, without becoming one of the million. Their films are distinct yet they are able to communicate and tell a story in a format where the audience has a chance to understand.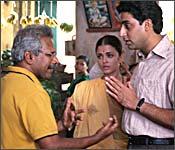 What is more important, the content or the format?
Content, of course. Format is just the language. Content is the only thing that is important. Form is like handwriting. Whether you write in a scribble or clean handwriting or type it, the content remains the same. You want to write in clean hand, in a kind of a clear format only because it is aesthetically pleasing. I can scribble, that's also fine.
Was it a conscious decision on your part to choose such clean handwriting?
I don't know. That is how I have liked cinema. I have liked movies that have been made well, crafted well, presented well, and which have a kind of aesthetics and quality in every department. That is where I am trying to reach. I feel you can reach all those standards.
Did song picturisation inspire you while growing up on films? I ask because in all your films, the songs are quite distinctive.
When I started filmmaking, I had no clue on how to picturise a song (laughs). I had no idea. There were h songs to shoot and I was thinking, 'how do I shoot them?' Then I started thinking about the songs I liked, not as a viewer. Then I asked myself why I liked those songs.
Can you name some of those songs?
I liked a lot of Vijay Anand's songs, the way they were picturised. There is this one song where he comes down with just two people -- Nutan and Dev Anand, I think -- walking down Qutab Minar. I can see that it's just one piece of set, and they are walking down again and again yet it was brilliant. He shot the entire song in one set, but extended the characters and their emotions into the song. One song had just close-ups.
I also like Bhim Singh's songs. He had done songs which are shot within a bedroom, between a husband and wife with just superb close ups. I also like Guru Dutt's songs; the way his camera moved and the way he caresses everything. I like Raj Kapoor songs too. I love Mehbooba in (Ramesh Sippy's) Sholay. They have all been masters at it.
So, you realise that if you want to do it, you have to think of a concept for a song. You have to think how to make it stand out and still be a part of your film. The characters of your film should extend into the song. It can't just be just the hero and heroine; somewhere there should be a connect.
Do you use songs as a continuation of the story?
Yes, I do. I think a song should do a few things. It depends on the screenplay. We use a song sometimes when the screenplay reaches a peak -- in the sense that there is an emotion that comes up to the peak and it becomes a celebration. So it is just letting out; it becomes just the high.
Songs could also be used to build the time between X and Y, to move the story from here to there. Or the song could do something more; it could talk about a relationship, about what is inside your mind. What is going through your mind can very beautifully come through a song. So songs can be used differently depending on where it comes on the screenplay. As a filmmaker, you mercilessly use anything to enhance your story telling.
What gives you the high as a filmmaker, shooting a song sequence or the story itself?
The story is the base, the essence and what you make the film for. You use songs as highlights, as an additional trump card. But for me, it is a struggle with each song. It is like, 'Oh my god, I have to do this song!' The first day of the song shooting is a real torture.
Then why do you still have songs in your films?
Because I love songs. After the torture, once you figure out the way, it becomes bliss. You enjoy doing it. First day is a torture because you know what you want, but do not know how to get there. Then I pull everybody into the song till we find a way.
Of all the famous songs of yours, which one is your favourite?
I really do not know. I am happy about a lot of songs actually (laughs). Sometimes very intimate songs are very nice. Some are nice for the bigness like Chandralekha in Thiruda Thiruda or Chayya Chayya in Dil Se.
There is one song in Kannathil Muthamittal where there are a mother and daughter in an open landscape. It has nothing other than these two characters in an absolute arid landscape, and we really enjoyed doing it.
When you break new grounds and try to do something different, it's always a high. I remember the first time we did a whole song in slow motion with lipsync for Geetanjali. It was not prevalent at that time. We just had a method and we tried to do that. We weren't sure whether it was going to work, but that is the kind of risk you take.
In Alai Paayuthe, we had a song shot entirely in reverse. The whole song takes place inside a flat, and as it was shot in reverse, actors had to sing the entire song backwards. They had to learn and sing it correctly.
Why did you think of shooting in reverse? Just for fun?
These are two young people inside a house. They had wanted to get married, and just tied the knot. It's the first phase of their life and it was magical, with a floating quality. When it's in high speed and reverse, it has this surreal quality to it. If you see the song again, you will know.
Those are the kind of things that you try. You have seen two people in love hundreds of times; unless you give a new angle to it, it's not going to excite.
The cinematographer is one person I pull into when I think of new ideas.
Do you look at him as your eyes?
It's not that. He is my friend, philosopher and guide. He is the person I work the closest with in the film. I share right from the idea of the film to whom we're going to cast, how to shoot, where we are going to place them and how we are going to develop the characters -- he is involved in every stage of filmmaking. We work in tandem. He is the person who is watching through the lens. You work with somebody on the same wavelength. He is the person you bounce your ideas with, and thus he becomes your best friend. 
Whenever a film of yours is ready for release, there is a lot of excitement. Do you feel honoured by the reaction?
Where is the excitement? I am not too sure if there is enough excitement! There should be more! (laughs) I am being very honest!
On a serious note, this is what I love doing and if you can make a film which you feel is better than your previous film, then you are going in the right direction.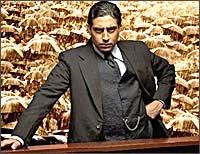 If I were to call Mouna Raagam your most romantic film and Nayakan your most powerful, would you get angry?
Yes.
I have got angry several times. For 20 years, I have been making films and if none of them matter, won't I get angry? When we went to shoot at Badami for Guru, a gentleman came and told me the same thing about Mouna Raagam. I told Rajiv (Menon) the cameraman, 'Rajiv, look, I made that film twenty years back and I still haven't crossed that.' When we finished Guru and saw the copy, Rajiv told me, 'now if you go to Badami, they will not talk about Mouna Raagam, you just watch.' That was Rajiv's way of saying Guru was fine.
I think it also depends on the time you saw the film first. The first time you saw it, you didn't expect anything. It is like the music I listen to; I listen to the music I have grown with. I still listen to Beatles and Pink Floyd not because the music after that is bad; it is just that you have grown up with that. If you ask me about the best films I have seen, I go back to Pyaasa very easily. It will take quite a while to say Sholay.
So that's what I tell those who still talk about Mouna Raagam. 'You must have seen the film at an impressionable age.' That is the way I console myself!
Part 1 of the Mani Ratnam interview: 'Abhishek was the first person I thought of'