| | |
| --- | --- |
| Vinod Jain | |
| | |
| | |
| | |
| | |
| | |
| | |
Advertisement
January 10, 2007


Vinod Jain, 49, is an angry man. The businessman cum social activist has vowed to make Mallika Sherawat pay for her New Year's eve dance at a five-star hotel in Mumbai.

Jain's complaint against Sherawat, for what he thinks was an obscene act, was not registered by the Santacruz police station. Inspector Prakash Jadhav of Santacruz police pointed out that Mallika was wearing a skin-colour dress, and that they found nothing obscene in that.

"We have therefore not registered a complaint against Mallika," Jadhav told Syed Firdaus Ashraf.

That has not stopped Jain. He has vowed to pursue the case with the police till they admit his complaint.

"If not, I will go to court and file a case against her for displaying her body and undressing a man on the stage," said Jain, pointing at pictures of the Bollywood actress's performance at the J W Marriott.

We produce Jain's point of view: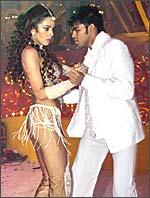 Why did you register a complaint against Mallika Sherawat?
I complained because I was watching a news channel on New Year's eve with my family. I saw Mallika dancing naked in the news item. I felt embarrassed and changed the channel to watch some other news channel, but every channel was beaming Mallika in her dare bare act and I felt offended. I therefore decided to file a complaint against her.
But she is wearing a skin-colour dress.
You see the pictures and decide whether you see the dress. My family saw this live and I was feeling embarrassed to see those pictures live.
Why didn't you just change the channel? Mallika often says, 'If you don't like my face on television you change the channel.'
I wanted to see the news. I am a news addict. All channels were showing Mallika dancing.
Images: Mallika's not-so-happy New Year
Why not then sue the channels too?
They were reporting an incident, how can they be sued?
Do you know Mallika walked out of the show when she came to know her performance was being telecast live?
I don't care about that. The fact is that the show was telecast and Mallika participated in it and this is what matters to me.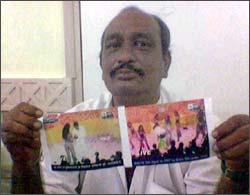 Mallika has done steamier scenes in her films. Why target her now?
If she exposes in a film then it is for audience to decide whether they want to go and see that film or not -- you have a choice. So, I don't mind. However, in this case, she is doing a dare bare act on news channels. I felt more offended because if you carefully see the pictures you will find that she is stripping one man on the stage. If you don't call this obscene then what do you call obscene? If you don't stop Mallika now, she will strip all men in future.
How do you define obscene?
I will give you an example. In Olympics, women wear short clothes and swimsuits. I don't feel that is obscene. If you see Mallika Sherawat's New Year pictures then you will find it is an obscene act. There were 3,000 people who attended this show and therefore I feel all these people came to witness an obscene act of Mallika Sherawat which was telecast by news channels. And she undressed a man. You look at the pictures.
You had filed case against Mahesh Bhatt for the posters of his film Rog and also against Suneel Darshan for the pictures of Barsaat. Don't you feel there is no point in such acts because you don't get anything out of it except publicity?
Let me tell you that Mahesh Bhatt and Suneel Darshan have never dared to publish obscene pictures and posters after my case. I think that is my victory. What else do I want? I feel moral policing by me is better than moral crime by Mallika. I feel I have to protect our culture. Even if nothing happens in this case, at least next time Mallika will be careful in not repeating such an act.
Images: Mallika's not-so-happy New Year