Advertisement
February 27, 2007 14:18 IST


Water may have lost the Oscar to Germany's The Lives of Others in Best Foreign Film category.

But director Deepa Mehta's controversy-laden third of the trilogy, after Fire and 1947: Earth, still has enough to look forward to. While detractors fume and supporters rejoice, Water is all set to hit Indian shores this March.

Set in pre-Independence India, Water featuring Seema Biswas, Lisa Ray, John Abraham and Sri Lanka's young talent, Sarala, exposes the adverse conditions of the widows in an ashram of Varanasi.

Now for the soundtrack, A R Rahman compositions, against Sukhwinder Singh's feverish lyrics, are sublime in texture. His tunes are unobtrusive, yet striking, without ever jarring the somber tone of the film.

The playful candor and carefree abandon associated with first rains is articulated in Sukhwinder and Sadhana Sargam's spirited celebration, Aayo re sakhi. In addition, Rahman masterfully employs traditional instruments like mridang and santoor to great effect.

Sargam posesses an enchanting quality in her voice. Notice how her caressing rendition of the hauntingly despondent Piya ho creates rich, lilting waves from the speakers.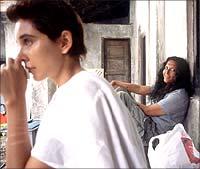 Once again, the singer gladdens the heart with Naina neer. A desolate, profound and compelling melody echoing the sentiments of Lisa Ray's character (Kalyani) to draw parallels of her devotion to that of Meera's towards Lord Krishna. In another track, Bhangari marori, Sukhwinder gets the honour of doing the same. He does it well and with restraint.
Soaring festivities and splashing colours throb in the chirpy albeit commonplace beats of Shyam rang bhar do. Interestingly, the strain behind these lines -- Badar zara dol zor se, kya bole zara bol zor se are exactly the same to that of Kal nahin tha jo aaj hai (from Vishwavidhata), again by Rahman.
Rahman's take on Narsi Mehta's bhajan Vaishnava Janato, highly favoured by Mahatma Gandhi, is predictably beautiful.
Elegant and enigmatic, Rahman's creations for Water are refined and free flowing.
Rediff Rating: