Advertisement
February 22, 2007 12:28 IST


When he burst on the scene a couple of years ago, Rabbi Shergill was a breath of fresh air in a music industry obsessed with cheesy remixes and tasteless titillation.

The Delhi lad's first album turned a lot of people -- who never heard Punjabi/Hindi songs -- into fans.

And then he dropped out of the radar. He performed live, but apart from a music video here and an appearance there, he was largely missing in action.

The soundtrack of Delhii Heights -- Rabbi's debut at composing music and writing lyrics for a Bollywood movie -- shows the guitar-slinger was no one-album wonder. The music is as fresh and stripped of pretension as his album was.

It kicks off with the best of its six songs, the almost U2-esque Dilli. Tastefully sprinkled with delay driven guitar touches, it's a great road song, as much an ode to youth -- with lyrics like Avaraan thhi raat/aur sarkhein thee sab mere baap ki -- as to the capital.

The second song, Tere Bin, is from Rabbi's debut album. And the love song still sounds nice.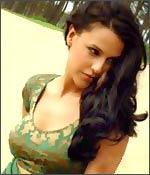 Kabhi Aana Na begins with a guitar sound and riff almost reminiscent of the Deep Purple classic Smoke on the Water. It's starts out very rock, with Karl Peters's bass and Rabbi's distorted guitar providing an unlikely but fitting backdrop to a song about friends and growing up. Sample the lyrics, voiced nicely by Amit Sana of Indian Idol fame and Rabbi: Saath honge DVDs, PlayStations/Dhundengey life ka re-rewind button/Aur bolega sheesha hamein/Dikhana na dikhana na/Ye utra sa chehra dar pe mere tu.
Kitni Der Tak sounds like something composed by a man who has heard Mark Knopfler carefully -- maybe because of industry veteran Bismarck Rodriguez's delectable lap steel guitar playing. It's a young love song, nicely done.
Aaja Nachle is the quintessential 'Punjabbi gaana' full of masti, sung nicely by Salim Shahzada. And Ey Gori, a fun-filled Holi song, showcases Kailash Kher and Sonu Kakkaar's voices very aptly.
The bottom line: Delhi Heights is a young, fresh and welcome soundtrack. Rabbi's songwriting and singing has an honesty to it, which he fortunately has not abandoned in his first Bollywood outing. Let's hope the movie lives up to its songs.
Rediff Rating: