Home > Movies > Reviews

Shah Rukh makes good Koffee

Raja Sen | February 12, 2007 14:42 IST


| | |
| --- | --- |
| Karan Johar, Shah Rukh Khan | |
| | |
| | |
| | |
| | |
| | |
| | |
Perhaps Shah Rukh Khan needs to be submerged in caffeine. A giant mug of the stuff with Karan Johar never too far out of range.
Khan -- far, far livelier than when on the hotseat, was the unquestioned highlight of Johar's return to television Koffee, in a crackling premiere episode which also featured Kajol and Rani Mukerji.
First Look: More Koffee, now with Mallika
Johar is a charming host, at least to his friends. Seeing as they're superstars, this makes for predictably interesting, sometimes repetitive, viewing. We've seen the gang before, and while they're never profound, their giggles reassure that they aren't even trying to be. These are stars luxuriating in the comfort of their own starry cocoons, slipping masks on and off with both disdain and a wink. It's all one big in-joke, and perfectly enjoyable -- if you like that sort of thing.
Kajol was overcompensatingly aggressive, lacing her answers with almost teenage defiance. Yet, the actress was infinitely preferable to her cousin Rani, an exquisite vision and utterly insipid. Johar was fun, as long as he wasn't talking about his own movies. But the show, as mentioned above, was the SRK-hour.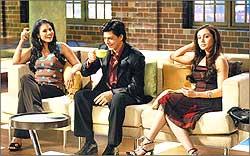 Khan -- who took one grave moment to wax intelligent on the inevitable need for the media and how the stars are as responsible as the tabloids -- was a barrel of suave laughs.
His characteristic candour and soundbyte-savvy wit was at its sharpest, never shy to bring himself down. Asked what he would do if he woke up and found he was Karan, the instant answer was that it'd be likelier for him to wake up with Karan. 'Let's keep the rumours alive,' he grinned.
Is it all an act, one may well ask. Sure, the questions seem easy and rehearsed, and Johar never tries to pry. Questions seem to have been agreed upon in advance, and one wouldn't really be surprised if the existence of scripts -- and dress rehearsals -- was revealed.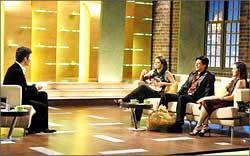 The real cattiness, however, comes from the lenses. As Johar has pointed out, his cameras are anything but intrusive, preferring to stay behind the slits of the set-wall and out of his guests' way.
'We want Ash-Abhishek on Koffee' | Your say?
This same factor also makes them potentially lethal, sniffing out stars who aren't quite sure when exactly they're being watched.
Add to that a mischievious edit, and we end up with Kajol telling Karan there's no Rani role she envies, while we see Rani visibly stiffening. Well done.
Overall, Koffee's a lark. You may feel you've seen it all before, but the meow Johar adds makes it work pleasantly enough. That, and a delicious SRK. Maybe he should co-host.
Koffee With Karan, Sundays, 9 pm on Star World and Star One. Next week: Hrithik Roshan and Priyanka Chopra.
Want to see this movie? Check out Rediff Movie Tickets!