Home > Movies > Television

Karamchand returns, to pricier carrots

Sonia Chopra | February 09, 2007 14:22 IST



Nostalgia envelops director Pankuj Parashar when asked about shooting Karamchand back in 1985. The serial with the carrot-eating, sunglass-wearing eccentric detective is back.

Despite the serial returning after more than two decades -- it's interesting to note that some things have changed and most have remained the same. It was director Pankuj Parashar who directed the legendary serial then, and he claims that most of is crew, except the sound department and his assistants, remains the same.

He also reveals that at that time, actor Pankaj Kapur was just starting out and was pretty much unknown, and now-famous director Sanjay Gupta was his assistant on the show.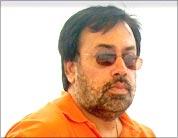 The director informs that characters of the protagonists and the feel of the story will more or less remain the same. But how different will the series be technically? Answers Parashar, "The sound and picture quality will, of course, be in keeping with today's times. We used sync sound then, and are going to use sync sound now as well. We've kept the same music composed by Anand-Milind. What has changed, of course, is that a kilo of carrot cost Rs 2 then, and costs Rs 12 now."
Even the cult dialogues like 'Sir, you are a genius' and 'Shut up, Kitty' remain.
When asked how the serial would incorporate today's changing milieu in the storylines, Parashar replies, "20 odd years back, there was no concept of reality shows. Now, we can show an incident that has taken placed in a reality show, and Karamchand reaches there to investigate. I am sure incorporating these things will make the series more exciting."
For his part, Pankaj Kapur remains cool to all questions. It is a well-known fact that Kapur, a trained actor from the National School of Drama, was wary of doing television when he was offered Karamchand and accepted the part as he had no money in the bank. Having traversed an impressive career path in all the years, why did he think of playing Karamchand again?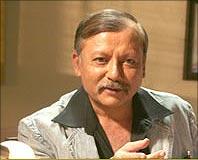 Pankaj Kapur: Give me a human being to play
Says Kapur, "As an actor, this seemed like an irresistible experiment. To go back to a character I had played, and then try and play it again after such a long gap. It's very exciting for the performer in me." So will the new Karamchand be with-the-times, and comfortable with new technology? "On the contrary, he's not very comfortable with technology and gadgets. We discussed this aspect a great deal and decided that Karamchand is a character who relies more on his intelligence to solve cases. His assistant Kitty, however ,is very tech-savvy." Admitting to being a huge fan of mysteries himself, Kapur says his favourite detective will always be Sherlock Holmes.
One person conspicuous by her absence on the series is Sushmita Mukherjee, who played Kitty then. Parashar's reply? The predictable "I had the gut feeling to hire someone younger." Kitty will now be played by television actress Sucheta Khanna, who has essayed several comic roles including the daughter-in-law in Kadvee Khatti-Meethi, the sequel to Tu Tu Main Main.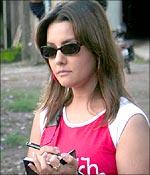 Incidentally the credit of recreating the serial ought to go to Parashar's children who kept asking him about Karamchand. "Whenever someone one would talk of the serial, my children would want to know more about it. That's when I thought, 'why not?' I spoke to Kapur and he seemed enthusiastic as well. That's how the thought of bringing back Karamchand took ground."
The remake of an old serial is an unconventional step. Little wonder then that Sony has chosen to take baby steps with only 13 episodes (one season) airing in the beginning. The channel hopes to take the serial forward with more episodes, judging by the response it garners.
When quizzed about this, Sandeep Sikand, Chief Creative Director, Sony Entertainment Television says, "At Sony, we believe in a mix of programming. We like to concentrate on fiction, Monday through Thursday, and concentrate on alternative programming on weekends. We were very interested in Karamchand as its one of the few shows that needs no introduction. We are targeting the audience that had enjoyed the serial 22 years ago, and also the fresh audience that has only heard about it and will sample it for the first time."
How the serial fares remains to be seen -- but the carrot munching detective, older and wiser, is back to his antics on the telly. Now that's some food for thought.
Karamchand starts February 10 on Sony, every Saturday at 9 pm.