| | |
| --- | --- |
| Rajpal Yadav in Undertrial | |
| | |
| | |
| | |
| | |
| | |
| | |
Advertisement
February 08, 2007


His comic roles made him popular in Bollywood.

Though Rajpal Yadav is not the tallest star in the industry, he's out to prove that he can be the most versatile. His forthcoming movie -- Undertrial -- may just be the platform he wanted. Yadav talks to Patcy N about the movie. Excerpts:

How did you get this role?

When I was shooting for Hello Hum Lallan Bol Rahein Hai, I met (producer) Nazim Rizvi who told me of a man he met in jail and the turmoil he went through. After working on the story for three years, he wanted to make it into a film. When I heard the story I got goose pimples and could not wait to do the role. Rizvi told me that I am the only one who can do the role. 

 

What is the story about?

 

This is a true story of a man named Asgar Hussain who had come from Lucknow to Mumbai city. Accused of raping his three daughters, he was imprisoned in Thane Jail in 2002. While in jail, he is repeatedly beaten up by the police and fellow prisoners. This movie speaks of principles and moral values and how we tend to blame all the wrong things on our family.

 

Why did you take up this role?

 

You will come to know after watching the movie.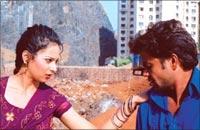 How did you accept the role with so much negativity?
Everyone in this country loves me I will not to do any role, which will demean my name. And I am not here to propagate bad things. I will not do a film if a family can't see it together. It's up to the viewer to decide if movie is bad or good and if I have acted badly.But I think the people should watch it before commenting on the film.
Let's just say that the role of Sagar Hussain is the only positive role in the movie.
How was it playing an older man?
I am happy that I got to act as a older man. This role was very challenging and I enjoyed doing every scene. 
How did you prepare for the role?
You have to check the requirements of the character-- his conflicts, status, age, mentality--and portray it with simplicity.
I have never seen the real Asgar Hussain on whom the story is based. My research material was through Rizvi. I know the character so well that if I get to meet the real Asgar Hussain I would defintiely recognise him in ten minutes after talking to him. As a matter of fact, while shooting for the film in jail, Asgar Hussain's inmates told me that I had the same mannerisms.
What was your overall experience on the sets?
This movie was shot in Thane Jail. We worked with around 2500 prisoners and they have actually danced in the movie. The  police was very cooperative too. The prisoners were very nice to work with, which was surprising to me. Some even promised to give up the life of crime once they are free. I thought to myself that if at least 100 of the 2500 prisoners decide to give up crime, then the purpose of making the film is served.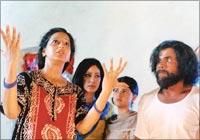 How was it acting with Kader Khan and Prem Chopra?
When I was born I saw them acting in movies and today I got a chance to work with them. They cooperated with us a lot.
How was it working with Aziz Khan, the director of the movie?
This is his first movie. He has worked on the script with Rizvi for around two and half years. He was prepared on the sets. He knew exactly what he wanted. He was brilliant. He never came across as a first time director.
You are building a college in Uttar Pradesh?
My elder brother wants to build a girls' college in Shahjanpur in UP. We don't have good education system and the security for girls in school and colleges in our village is dismal. So I am going to fully support my brother in whatever he is doing. When women are more educated, the nation progresses.