Advertisement
February 07, 2007 11:13 IST


What's on Bollywood's mind? Why, marriage, of course!

While Farhan Akhtar's assistant-turned-director Reema Kagti is all set to debut with Honeymoon Travels Pvt Ltd, Meghna Gulzar's next also explores the same theme.

Titled Just Married -- and with apparently nothing to do with the Ashton Kutcher-Brittany Murphy romcom of the same name -- this one features Fardeen Khan and Esha Deol as newlyweds.

Soaked in Gulzar's colourful pen, Pritam comes up with a lively score. 

Teasing wit and playful irony echo the bittersweet elements of marriage against a folksy flavour in the vibrant ditty, Ram milaye jodi. Despite the presence of Shaan and Sunidhi Chauhan, it is Sukhwinder Singh who rocks the scene with his super energetic performance. His irrepressible enthusiasm goes that extra mile to make Ram milaye tough to ignore. The track has a gloomy sad version and an uninspired remix twin as well. 

The husky sensuality of Sunidhi Chauhan takes a serene turn in the soulful Gudgudee. The singer breezily coos and contemplates the wonders of arranged marriage from a young bride's point of view. 

Think Daler Mehndi, think Balle balle. No such luck here! Doha is a cheerless number suggesting some unfortunate misunderstanding or complications between our hero and heroine. Mehndi, however, conveys distress effectively.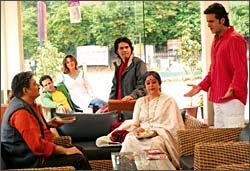 After all the sullenness, it's time to reintroduce an upbeat tone into the album with Baat pakki. Incidentally, Baat Pakki was one of the two working titles (the other being First Honeymoon) of the film before it was called Just Married.
Pretty situational, the song involves a lot of good-hearted banter and amusing rhyming sessions. There is another version of the same featuring Shaan and Bombay Vikings frontman Neeraj Shridhar doing the honours. It's reasonably catchy thanks to Gulzar's engaging verse, although the same cannot be said about the jangling and noisy remix.

Sonu Nigam shows why he is the hottest singer in the business with his sunny rendition of the effervescent Jagte raho. Even if Pritam's tune is somewhat hasty in comparison of Gulzar's lingering poetry, the master of words delights with his queer lyrics. Here's a sampler: Jab raat ki thaili khule, kya jaane kya kuch mile, shehnai bhi, sannate bhi,
sapne kahin, kharate bhi.

Short and sweet, the soundtrack is quite a pleasant ride. So if you are looking for some easy going, ear-friendly music, go get Just Married.
Rediff Rating: