Advertisement
February 07, 2007


Controversy seems to be Anurag Kashyap's middle name. His directorial debut, Paanch, has not yet made it to the marquee. The petitioners against his next movie, Black Friday, alleged the movie passes judgement on the accused in the 1993 Mumbai bomb blasts; the Bombay high court upheld their argument.

But now, with the landmark verdict delivered, the outspoken Kashyap will see his labour of love on the big screen. Over to him as he lets off some angst to Patcy N:

On Sanjay Dutt

I don't want to say anything about Sanjay Dutt's verdict -- maybe I want to be politically correct. I have lot of opinion on many things, but I have decided not to express my opinion because I have faced repercussions. The world can't take honesty. My releases are blocked. I have been thrown out of my pet project -- but I will not name them. Bill Gates ones said, 'Life is unfair, get used to it.' That's all I want to say.

My movie Black Friday doesn't have a Sanjay Dutt scene because Sanjay Dutt's story was not important to my film. He is important to the media. He is important to lot of people as he can sell things. I don't need Sanjay Dutt's story to sell Black Friday. It is about the blasts, not about the peripheral issues.

When I say life is unfair, I don't mean that he [Dutt] should have been convicted under TADA [Terrorist and Disruptive Activities (Prevention) Act].

On the industry

It's like this: Everybody's film releases, but movies are stalled. Dhoom: 2 has a kissing scene, it has actors in bikinis, still it gets a 'U' certificate. Neal N Nikki also gets a 'U' certificate.

In a Yash Chopra film you can use a helicopter in a scene in Mumbai. In Bunty Aur Babli you can break a train's glass -- just to show an actress you destroy government property. In a Yash Chopra film Yashraj gets to do everything but if someone else tries then the movie is banned or then it's marked 'adult.'

So at the end of the day, law is not equal for everyone. Censor is not equal for everyone. Nudity is not allowed in cinema but when Yashraj will do nudity, nudity will be allowed in cinema. Yashraj are the bullies of the industry. Yashraj have power over a lot of things; they get away with a lot of things. That's why I say life is unfair, get used to it.

On Black Friday finally releasing

I am fed up of replying to the question about how I feel about the release of my movie! I am anxious, I am happy.

I don't want to sound depressed, but it's just that I am not feeling anything. I am enthusiastic, but I am not jumping around. I am waiting for the release of Black Friday, I am editing [my next directorial venture] No Smoking [starring John Abraham and Ayesha Takia]. I am working.

I coped with my depression with lots of single malt [whisky], lots of sleeping in the bed, lying in the room, lazing around, looking at the roof and walls. I would push myself out to play with my daughter, and then I would start writing. I tried making films -- I made Gulal [being shot, featuring mostly fresh actors] that didn't happen. I kept writing [the animated film] Hanuman II. If I am not working, I go back to my single malt.

'Juhi, Ayesha, Konkona are the best'

I went to the court many times during the hearing of Black Friday. I never felt so depressed in life when I went to the court. I wanted to say many things but I was told not to say because anything I might say would be contempt of court. I realise in this country you can't say anything. You can't talk about films and industry because Mr [Amitabh] Bachchan or somebody else might get upset. You can't say against the court because it is contempt of court. You can't say anything anywhere; we are living in anarchy where there are various rajas and maharajas.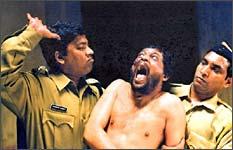 Arindam Mitra of Mid-Day [newspaper] came to me with a book [on the blasts] written by Hussain Zayedi, who was their chief crime correspondent. He wanted me to write a television series based on the book. I asked them to make a film on it. I told them I would like to direct it. Then I bugged them to death until one day Arindam told me, 'Please don't call me anymore; you can direct the movie.'
Three years of research was already done by Zayedi. I did just one year of research. I went to the court as part of the research -- to see how the criminals look. Do they look like normal people? How is the court procedure? How does it work? I found out that the criminals look very normal; I made my casting based on that.
On the making of the movie
It is very easy to keep the characters real -- you just let them be. It is very difficult to make them act. In Hindi cinema that's the most difficult job, because Hindi movies make it all unreal. You need a serious lack of imagination to do that.
They are all real people KK plays investigating officer Rakesh Maria, Pawan Malhotra plays [terrorist] Tiger Memon, Aditya Srivastava plays Badshah Khan, the police approver who held them crack the case, Vijay Maurya plays [most wanted terrorist] Dawood Ibrahim, Imtiaz plays Yakub Memon, Dibyendu Bhattacharya plays Yeda Yakub, Arbaaz Ali Khan Plays Javed Chikna, Pankaj Jha Plays Anwar Theba [key people behind the blasts that left 257 people dead and over 1,000 injured].
Nobody from my crew cast got any threat calls; neither did I.
Nothing was difficult to bring to camera -- the actors did the hard work. I do my casting right. Half my battle is casting, and when I cast the right people and gave them the book to read on their own they came on the sets becoming that character. I hardly had to do anything.
We did research to recreate things. I saw the real locations, I saw the actual footage of the films from [the government's] Film Division, I read all the newspapers. I read a book called Voices written by Sebastian, a human rights lawyer, looked at lots of press photographs. I had no political pressure whatsoever. Black Friday is actually a film that I made how I wanted to make it.
It was a difficult film. The most difficult thing was to create 1993 when there were no cell phones, no satellite television and the latest car was Maruti 1000. We had to shoot on the streets of Mumbai and avoid all the modern cars. We could not shoot from the low angle because all the hoardings and neon signs were of [popular television soap] Kyunki Saas Bhi Kabhi Bahu Thi. We had to avoid people with mobile phones. While shooting in that atmosphere, we had 25 cars of own.
It is worse than making a period film because there you know you can't shoot here so you go to a place that suits your script. But I needed the city, so I had to shoot here, at the same time I had to trim the city. I somehow managed it. I shot mostly from the top angle and focused on my characters. There was a lot of guerrilla type shooting where nobody in the city came to know -- we shot with hidden cameras. The police was supportive, Mid-Day was at the job for permissions and all those things.
About other films
I am critical about those who have seen Black Friday [mostly on pirated discs] and say that the first half of is gripping and second half is not. What would they say about Dhoom because both halves are equally gripping? People want to watch mindless movies.
I want Paanch to release but if it doesn't, I will move on. I want to do other things in life. No Smoking will release by June. Hanuman II will release during Diwali, and in between I will also finish Gulal.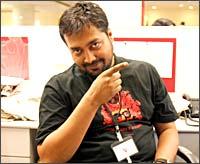 I think Parzania [by director Rahul Dholakia, on the 2002 Gujarat riots] is a very important and good film. My only issue with it is that it shouldn't have been in English -- it should have been in Hindi. Making a film like that it in English alienates the very purpose why it was made. But I think it's a brilliant film -- the riots sequence is the best shot I have seen in a very long time.
I have riots in my movie too. Riots are riots wherever in the world -- whether it's Hindus killing Muslims, Muslims killing Hindus, black killing white, whites killing blacks. I relate to all this in a film as to a man killing a man. It doesn't matter whether it's in Rwanda, Gujarat or Mumbai. It should not happen.
I have not liked any other realistic movie based on a real incident and made in India. They can do better work, but they don't.
I am going to make one more movie other than No Smoking this year with [producer] Kumar Mangat and [Omkara director] Vishal Bhardwaj. I am writing Vikram Motwani's movie Last Leaf, which will be produced by Nikhil Advani [director of Salaam-E-Ishq].
Anurag Kashyap's photographs: Uday Kuckian