| | |
| --- | --- |
| A still from Return Of Hanuman | |
| | |
| | |
| | |
| | |
| | |
| | |
Advertisement
December 28, 2007 14:46 IST


Two years ago, the animated version of Hanuman turned in a pleasant surprise with its winning charm and gripping goodness.

Cashing on its popularity, the makers (Percept Picture Company) then decided to create a spin-off around the beloved mythological hero. Only they refused to call Return of Hanuman [Images] a sequel. Whatever!

Considering the predecessor covered pretty much everything, Return of Hanuman blends the modern with the mythological to impart the golden lesson of good prevails over evil.

In trying to establish this, the film tries to be a lot of things at once -- enlightening, entertaining, cheeky, cool and comic. The outcome of which is incoherent and exhausting.

It all begins with the story of how Rahu and Ketu came into existence followed by why man himself is the biggest evil or the impact of pollution leading to global crisis. Barring the Rahu-Ketu portion, which is vividly and impressively picturised, the narrative not once touches upon what led to the decline of man and environment for it to cause such mass scale destruction. What could have been an excellent point of edification for the film's target audience -- children -- with regards to environmental issues, is, unfortunately, employed as a mere twist in the plot to get the climax done and over with.

Also, Narada and Hanuman communicate straight out of a Ram Gopal Varma movie. That is, when Narada is not snooping around Lord Indra's room while the latter spends quality time with divine apsara, Menaka. The obnoxious innuendoes involved here are hard to overlook.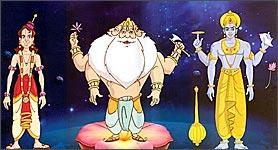 Wait, there's more. You may spot a gorilla modelled around Shah Rukh Khan [Images] coming to little Hanuman's rescue or Hanuman dodge past a dozen bullets, a la Neo in Matrix. And there's a nasty bandit residing in mango orchards, inspired by Sholay's [Images] Gabbar Singh. Our man goes out of the way to demonstrate his versatility at the mimicking game, sometimes as the voice of Sanjeev Kumar, Raaj Kumar or Shatrughan Sinha, if you please. What is this? An animated homage to Om Shanti Om? Speaking of which, Narada breaks into a jig, strumming his sitar, fervently chanting OSO.  
Somewhere in the muddled picture, writer and director Anurag Kashyap fits in the hero of this enterprise, Hanuman and his unending saga of adventures.
One fine day, Hanuman resolves to make a trip down under as a mortal so that he can play football with the local boys. While Lord Brahma is most apprehensive, he eventually relents. Barely three months old, the human Hanuman, rechristened Maruti [Get Quote], is boy enough to get admitted in school. There's certain irreverence in the manner of handling the lovable deity's on screen persona. One fails to find anything chuckle-worthy about the director's constant fascination with Hanuman's tail or school kids referring to him as 'bandar'.
Anyhow, here the constantly famished Maruti bumps into the customary hapless kid, Minkoo, soft target of the bullies of his neighbourhood. Predictably, Maruti saves the day. Meanwhile, danger lurks around in the form of scheming bandits and Shukracharya's immortal creations -- the half serpent, half-human, Rahu and Ketu threatening to cause the end of the world.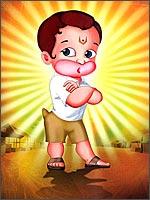 For sure, with a do gooder like Maruti/Hanuman around, all's well that ends well. Not really! The climax involving a celestial battle and mucky volcanic eruption crawls painfully crying for a crisp pair of scissors. Although the artwork is fairly decent, the animation shows no sign of improvement since Hanuman's previous outing.
While adults may question Kashyap's take on mythology or disapprove of Gods conversing in Hinglish, kids might find the action entertaining. Or if nothing else; learn the importance of drinking milk. Else, go watch the recently tax-freed Taare Zameen [Images] Par.
Rediff Rating: