Home > Movies > Interviews

The Rediff Interview

'I want to be an actor, singer and dancer'

Girish Rao | December 26, 2007


| | |
| --- | --- |
| Aamir Khan and Darsheel Safary | |
| | |
| | |
| | |
| | |
| | |
| | |
His debut film, Taare Zameen Par, has won him a lot of accolades. Critics and audiences are raving about Darsheel Safary, the dyslexic child in Aamir Khan's [Images] new film.
Days after the film's release, Darsheel basks in its success, and at the same time, remains very modest. We talk to him about Taare Zameen [Images] Par and more.

You must be getting a lot of attention from girls now.

No, the school vacations are on right now.

Are you excited about going back to school?

Yes, and by the time school re-opens, I will be back to normal.

Do you feel like a star?

No, I feel very normal.

Aamir has praised you a lot in his interviews. Do you have anything to say about him?

He is very fond of a few words, which he uses often. Whenever something goes wrong, he'll say, 'arre yaar'. Whenever he makes others learn something, he says, 'aab aaya oot pahad ke neeche.'

Judging by your mischievous nature, you must have given a lot of grief to Aamir on the sets!

Yes. To measure the exact amount of light on the sets, there are oval meters installed. I used to ask the lightdada why he was eating eggs? Then they would explain that they used for the lighting.
I would do the weirdest things with glycerin. I used to apply a portion in my eyes and then eat the rest! It's really tasty because it is full of sugar.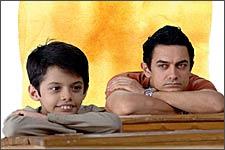 Who is your favourite actor?

There will only be one favourite hero for me. And that is Hrithik Roshan [Images].

Who is your favourite actress?

In terms of acting, it is Rani Mukerji [Images]. In terms of looks, it's Aishwarya Rai [Images].

Do you want to be an actor when you grow up?

I am very choosy. I want to be a businessman at some point; also a jewellary designer.
I want to be an actor, singer and dancer as well.

When will we see you next on screen?

(grins) I might do a sequel, which will be called High Jump. That was the initial title of Taare Zameen Par.