| | |
| --- | --- |
| Aamir Khan in Taare Zameen Par | |
| | |
| | |
| | |
| | |
| | |
| | |
Advertisement
December 21, 2007 12:02 IST


Mighty nice, Mr Khan, mighty nice.

Taare Zameen [Images] Par is an impressive debut indeed for filmmaker Aamir Khan [Images], and showcases a brilliant performance by the young Darsheel Safary -- one of those child actors you can't possibly resist. More than just dyslexia, the film is a look at childhood dreamers who feel shunted out by the rest of the world, the cruel world that doesn't understand them. At some level, I guess we all relate. And this ends up a nice watch -- sincere, even if somewhat simplistic.

Don't Miss: Showcasing Taare Zameen Par

Aamir is particularly gifted with imagery. The film opens with Darsheel's character, the impish Ishaan Awasthi fishing from a naala, and heading home to literally feed dogs his homework. The child doesn't talk much but is strikingly imaginative -- a Calvin without his Hobbes -- and given to art. Misunderstood at almost every step, he stands up to a local bully defiantly, as scrappy as the strays that chewed upon his test papers. His parents have their hands full, choosing instead to concentrate on their elder son, an achiever of Complan-Boy levels.

Darsheel is superb in the role as we see him bewildered, then hurt, then frustrated with constant rejection. Khan, who handles the school sections of the film with relatable nostalgia, reels us in with poignant, simple visuals and makes us feel the child's pained confusion. A song bursts onto the scene, cut smartly like an edgy music video, showing Ishaan's father (played by Vipin Sharma) get ready for a business trip, while his harrowed mother (Tisca Chopra) gets eggs and bread ready for first father then each son, in turn. All while Ishaan is blissfully oblivious to the need of the hour, or the hour itself. By this point, we're hooked.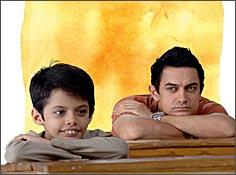 It is hard to know, as a director, when there can be too much of a good thing. Khan indulges himself with his nice little visual flourishes significantly in the first half, to the point of repetition. There is the clever device of the child -- being shunted off to boarding school against his desperate pleas -- making a flipbook which shows a family with one kid moving away, as the pages turn. It's a strong, simple touch, yet Khan chooses to show it to us again and again, showing the audience the flipbook every time any character sees it.
While Ishaan stands in a corridor, punished, some seniors walk by. Each of them -- every single one -- points and laughs at our protagonist, which is depressingly overdone and unreal -- even social outcasts aren't picked on by everyone; a lot of the kids just wouldn't give him a second look. The first few times the teachers rebuke Ishaan or are frustrated by him, it works. But we are forced to see everything again: pain in English class, Maths, Hindi... and so on. Flip, flipbook, flip. It doesn't help that outside of Darsheel and Tisca (and later, of course, Aamir), the rest of the performances seem either amateurish or over-the-top.
The director himself enters neatly at halftime, shushing us to announce intermission. Aamir plays temporary Art teacher Ramshankar Nikumbh, one who works part-time with a special-needs school, and wants Ishaan and his buddies to open up. Khan plays the role in just the right key, a sympathetic teacher who notices a problem but doesn't want to force himself through the child's shell. It is he who realises Ishaan has dyslexia, and goes to meet the Awasthis.
Aamir now balances his own character speaking like a Public Service Announcement with Ishaan's father spouting lines seemingly written for... laughs? Sure, they are laughs at his ignorance and a look at his lack of conviction, but the sharp contrast between the two seems contrived. The child's mother rapidly goes from confused-but-undoubtedly-caring to one who thinks googling dyslexia is enough. In fact, the whole parental angle is left considerably half-baked, seeming to serve only for a few good comebacks the teacher gets to make.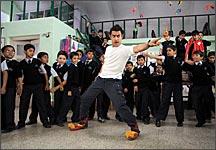 Yet, let's discount that as nitpicking. This is the story of the child and his teacher, and Nikumbh stands at a blackboard and shows pictures of Albert Einstein and Abhishek Bachchan [Images] and tells us  -- and the kids -- that dyslexia is more common than we think, and that it can be helped given the proper aid. Nikumbh speaks to the faculties, asks that Ishaan be given a little more time, and, after having educating the audience thoroughly on dyslexia, proceeds to charm Ishaan out of it.
Though I really wish Nikumbh didn't confess to himself having grown up with the disability; it makes it feel like only ones who have experienced it can empathise with the condition.
All great, except he does this over the length of one song. There are far too many musical digressions in this film anyway -- and while most are touching interludes to enhance the narrative, they end up stroking what's already been touched -- yet this is wrong in particular, to show and identify the problem and then dismiss it in a manner of minutes. It is all very well to depict that love and care will conquer all, but the process cannot be as simple as making plasticine elephants.
The songs are good, however, and Shankar-Ehsaan-Loy do a bang-up job, as does lyricist Prasoon Joshi. Scriptwriter and conceptualiser Amole Gupte has clearly written a heartfelt script, and his imprint lies all over the film, even visually -- outside of the two final paintings painted by Samir Mondal, all of Ishaan's artwork is done either by Gupte or his wife Deepa, who also edited the film. This is clearly a labour of love for them.
Highly watchable and -- again, because of Darsheel and Aamir's knack for sentimental imagery -- warmly likeable, Taare flounders fatally at the end. Sure, it's okay to appease the masses with a tacked-on and cheesy ending, but for a film which stresses that we need to give our kids their space and not force themselves into constant comparisons, a film which asks them to take their time to find their talents, the climax becomes about a competition, about how winning magically makes everything better. And that's a scary thought, in context of what the film tries to say, overall.
Taare Zameen Par is, above all else, an earnest film.
Aamir brings us the debut of both a great child actor and a budding director with a fine eye, though he seems slightly Ashutosh'd in terms of pace. Economy is the one thing this film cries out for. Crisper, tighter, and less repetitive, and we'd have a very good movie on our hands. For now, we have a director with clear potential for solid work. And we need as many of those as we can get.
Rediff Rating: