Advertisement
December 17, 2007


They rock both the young and old alike. Their songs, Send Me An Angel, Rock You Like a Hurricane, Winds of Change and Still Loving You, have found a permanent place in the hearts of most music fans.

The rock band was in India as part of their Humanity Tour to promote their latest album, Humanity Hour-1. After playing in Shillong, Mumbai and Bangalore, they will leave for New York as part of the same tour.

Vicky Nanjappa caught up with the band members -- Klaus Meine (lead vocalist), James Kottak (drummer) and Pawel Maciwoda (bass guitar) -- who talked about India, and of course, music.

So, how has India treated you? Did you like the response?

Klaus Meine: Oh, it was great. The crowd frenzy, especially in Shillong, was great. The crowd in Mumbai was good too. It felt great to know that we are loved so much here. Seeing the crowd go crazy is a feeling that I cannot describe.

Tell us about the Shillong experience.

James Kottak: There was no trouble at all. We had to stop for at least five minutes after each song to push the crowd back. They were all over the place and were going absolutely crazy. The show went on very well.

Tell us about your tour and the message the band is trying to spread.

Klaus Meine: We wish to spread the message of love and peace across the world. It would be great if we do it through music. The idea is to tell the world to make love and not war. We wish to play in more parts of the world and spread the message of love.

Pawel Maciwoda: Spreading the message of love through music will work, I think. The name of the tour itself suggests that -- Humanity Tour.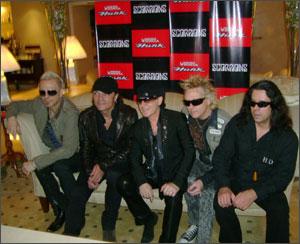 What do you think of new generation bands? Do you feel threatened by them? Have you thought of introducing hip hop in your music to keep pace with the newer generation?
Klaus Meine: Oh no, not at all. We don't feel threatened. Scorpions cater to a large audience; the kind of music that we play attracts all ages. So we don't see a problem there.
James Kottak: There is no plan to introduce hip hop into our music. Scorpions have a very matured kind of music and we will continue the same.
Pawel Maciwoda: We are not trying to ridicule the new generation bands which dish out hip hop music. They are absolutely necessary. But we don't have to change our music because of that. Scorpions is a brand by itself. In future, we plan to come up with more mature albums.
The Symphony of the Scorpions was a huge success. Do you plan to have more such shows?
Klaus Meine: Well, we worked with the best to bring out the Symphony of the Scorpions. Guess there is nothing much left to do on that aspect now. Who knows, if something exciting comes in the future, we may just consider it.
Great bands like Pink Floyd and Guns 'n' Roses have split. How does your band manage to keep the boat sailing even after so many years?
Klaus Meine: (Laughs) Well, we just keep going and music binds us.
Which are your personal favourites?
Klaus Meine, James Kottak, Pawel Maciwoda: We would say Winds of Change, Rock You Like a Hurricane and Still Loving you. Still Loving you is a pet favourite. It caters to so many generations and it is a singers' song.
What does the future hold for the Scorpions?
Klaus Meine: More music, more shows. We have a new DVD called Night to Remember. No fan should miss it.