Home > Movies > Interviews

The Rediff Interview / Sandhya Mridul

'Prachi is more popular because of her bahurani image'

December 17, 2007


| | |
| --- | --- |
| The three finalists of the Jhalak Dikhla Jaa 2 -- Sandhya, Jay and Prachi. | |
| | |
| | |
| | |
| | |
| | |
| | |
Even though Sandya Mridul was regarded as the best dancer and one of the favourites to the win Jhalak Dikhla Jaa 2, the celebrity dance show on Sony Television, a last minute twist in the final results declared popular television actor Prachi Desai the winner. 
Rajul Hegde caught up with Sandya to know more.
How are you feeling?
I'm feeling fantastic but a little sad because Jhalak Dikhla Jaa is over. I feel like there is a vacuum in my life. 
How was your journey?
It has been smooth and fun. Also, mindblowing, challenging and something that I had never done before. It has taught me to be myself. I have come to know where I stand in my life and the reality of it. Even viewers have come to know the real Sandhya.  
How did it feet to get a standing ovation in the finals?
Everyone from the audience, judges, crew and the participants stood up for a long time until I finished my speech. That itself said everything; that I am the winner. What more can I ask for?
Did you expect to lose to Prachi Desai?
I am a pretty intelligent human being, you know. I did see it coming.  
What do you mean by that? Did you know who the winner is before the results were out?
I don't want to comment on that. 
How does it feel to lose the competition?
Don't tell me that I lost. Like I have said before, you lose only when you lose heart, and I haven't. I may have only lost out on a trophy and cash but I have won many hearts. 
You scored full points in almost all the rounds. Why then did you think you lost?
Prachi is more popular because of her bahurani image. She is a television actress and she enters viewers' homes every day. There is a lot of connectivity between the audience and her character. People have so much respect for the character you play. I know this from experience -- I, too, have acted as a bahurani in a serial long time back. So I know that it makes a difference.
Do you want to comment anything on Ekta Kapoor's [Images] reported 'interference'?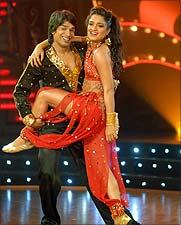 I am really fed up hearing and reading about Ekta pulling strings for Prachi. I don't give a damn about what is happening; it doesn't bother me. I don't want to comment on that. 
Do you think you were sidelined?
Not at all. Everyone appreciated me. The judges had declared that I am the winner on different occasions. Everyone knew I was working hard and doing my best. I was the one who stood up and spoke up when it was required. 
Have you made any friends on the show?
Javed (choreographer) is my biggest friend and whatever I have learnt today about dancing and choreography is because of him. I have made lot of friends from the channel, spot boys, drivers and participants. 
What are your future plans?
I will be performing in a show on December 20 at the NCPA, Mumbai. After that, I will be spending time with my family for a few days. I will come back and concentrate on my new projects. My secretary is handling my work very well and if I get a show like Jhalak Dikhla Jaa, I will definitely do more television shows.