December 14, 2007 14:45 IST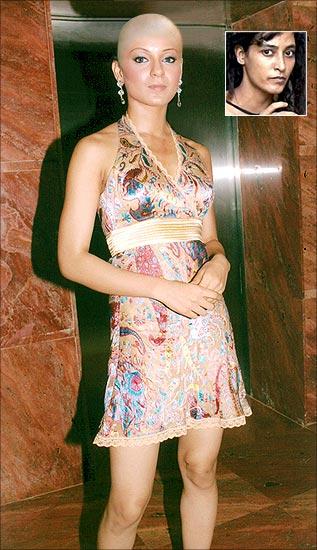 Kangana Ranaut is all set to go bald for her latest film, Madhur Bhandarkar's Fashion.

After much discussion and debate, Bhandarkar decided her final look as he wanted the actress to fit into former model Geetanjali Nagpal's look.

Fashion is based on Nagpal (inset), who was recently in the eye of much controversy. Once a successful model, Geetanjali lost herself to drugs and alcohol, and was found begging on the streets of Delhi in September.

After the news broke, Bhandarkar felt hers was a good story that needed to be told and he zeroed in on Kangana for the role. Apparently, Madhur was impressed by Kangana after her brilliant work in Woh Lamhe [Images].
Our designer Uday Kuckian tried to imagine what Kangana would look like without her hair, and his imagination resulted in this morphed picture.
What do you think about Kangana going bald? Tell us!