December 12, 2007 11:00 IST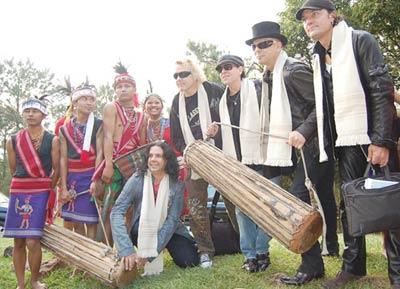 Shillong is set to rock as the Scorpions arrived in the city on Tuesday for their Humanity World Tour concert on December 12.
All the five band members including frontman Klaus Meine arrived at Umroi airport near Shillong and were given a tradition welcome at the Ri-Kynjai Lake Resort where the band is putting up.
"We feel great. It was indeed amazing to be here and to know that Shillong is the rock capital of India," Klause said during a press conference at the Resort.
Another band member Matthias Jabs said that "Scorpions will give 150 percent effort to entertain the audience". According to him Shillong being in the northern region of India has a majority of people who like hard rock, which he said, was different from the southern part of the country.
Lead guitarist Rudolf Schenker and one of three original members of the band said that he likes Indian music especially sitar, flute and shennai. "It's like classical music for your entertainment. It gives much inspiration and consciousness," he said adding that his favourite musician was Ravi Shankar.
The band, which will be opening its Humanity World Tour in Shillong, had just arrived directly by a chartered flight from Portugal where they performed at few concerts. They have covered 29 countries so far and India will be the thirtieth country in the list for this year.
Farhad Wadia of E-18 an organiser of the concert said that the decision to pick Shillong as one of the three venues for the Scorpions concert was that the city "is where the heart of rock is beating".
Mr Wadia also said that the cooperation provided by the Meghalaya government and the district administration and police towards arranging and facilitating the smooth conduct of the concert is nowhere found in any other cities of India.
Text: John W Thabah | Photograph: Sanjib Bhattacharjee
In the picture: The band accorded a traditional welcome.