| | |
| --- | --- |
| Jimmy Shergil and Sonia Mehra. | |
| | |
| | |
| | |
| | |
| | |
| | |
Advertisement
August 31, 2007 15:13 IST


As a kid, I remember watching Victoria No 203 and enjoying it thoroughly. Although I can't recall every scene from the film, I can never forget the song Do Bechare Bina Sahare.

And I can not forget the memorable moments with Ashok Kumar and Pran, as the two buffoons Raja and Rana. As the film reaches the climax, you fall in love with Navin Nischol and Saira Banu's characters.

But the same cannot be said of its shoddily directed remake by Ananth Narayan Mahadevan. Though the basic premise of the film is the same, the extra fittings are a disaster.

The story goes like this: Bobby Bomabata (Javed Jaffery) along with cohorts Devyani (Preeti Jhangiani [Images]), Ranjit (Kamal Sadanah) and Tora plan to rob a big diamond exhibition.

Trouble starts when Tora doublecrosses the team by trying to give the stolen diamonds to her brother (Rajesh Kera). Ranjit confronts and then stabs her. Tora falls near a horse carriage called Victoria No 203 and hides the diamonds in it. She later dies.

Meanwhile, the daughter of the horse carriage driver Sara (Soniya Mehra), a call center employee by day takes over the horse carriage business by night to earn extra money.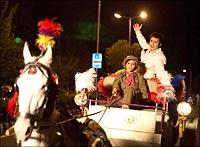 Enter Raja (Anupam Kher [Images]) and Rana (Om Puri [Images]), two small time buffoons with a key to a certain undisclosed locker. They learn about the connection between Victoria No 203 and the stolen diamonds. They soon make their way to Sara's house, but take pity on her. They decide to help her out and how they do that makes up the rest of the movie.
But take my advice, don't bother finding out what happens next. Fifteen minutes into the film, and you're already asking yourself why you ever bothered to watch it.
The film does not make sense. After the first half, you hope that the second half saves the film. No such luck. In fact, the climax is the worst. And this from Ananth Mahadevan who said that Tamil movies are illogical and lack sense.
The performances are not impressive. Senior actors like Anupam Kher and Om Puri have performed badly. Late Vinod Mehra's daughter Soniya Mehra fails to attract in her debut, while Jimmy Shergil's character is sketched so badly you don't know why he is there in the film at all.
Two songs, which are retained from the old film, fail to pep you up in their remixed versions. And the two English songs make no sense.
Personally, I like the idea of remaking old movies because that gives the new generations a chance to watch old classics. But if remakes are going to be this bad, then please don't touch the classics.
Rediff Rating: