Home > Movies > Reviews

Dhoka disappoints

Syed Firdaus Ashraf | August 31, 2007 18:05 IST


| | |
| --- | --- |
| A still from Dhoka | |
| | |
| | |
| | |
| | |
| | |
| | |
Former director-turned-scriptwriter Mahesh Bhatt [Images] has taken his offscreen image of a 'secularist' much too seriously and has translated it onscreen, in the name of Dhoka.
The film, directed by Pooja Bhatt, seems to be a lecture to the Hindu community in India about the serious issue of terrorism.
Some of the questions asked are: Why are Muslims always viewed suspiciously when there is a bomb blast? Why is there so much angst among Muslims against the Indian State? Why are police forces are so communal and one-tracked in their investigations? Why do some Muslim youth turn to terrorism? Why are Muslim youths picked up in the name of interrogations and then never heard of again? Why does no one talk about State terrorism in police lockups?
It is a good issue highlighted by Pooja Bhatt [Images], but she fails in the execution. If only she handled the message as subtly as Shimit Amin handled the issue in Chak De! India, where Shah Rukh Khan [Images] is as targeted as the hero here, because he is a Muslim. Yet, Chak De does not feel like a lecture.
In Dhoka, Zaid Ahmed Khan (Muzzamil Ibrahim) is a Mumbai police officer who discovers that his Kashmiri wife Sarah (Tulip Joshi) has died in a bomb blast in the city. He is told his wife was the suicide bomber.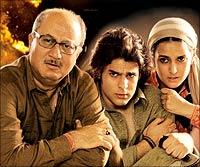 He is then arrested and interrogated for his alleged involvement. He comes out clean but is unwilling to believe his wife was a terrorist.
He tries to prove his wife innocent, but he realises how involved she was in the blast, and how extremist Muslim organisations are attracting Indian Muslims in their group in the name of jihad against India.
But the film fails mainly because it does not give attention to details. Sarah wraps the bomb around her waist. While 20 people die in the blast, Sarah's face remains intact and perfect.
Besides, why do the police not investigate Sarah's family and her associates, after they believe her to be involved in a terrorist act?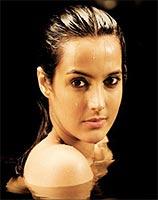 They stop their investigations after her husband is declared innocent.
On the acting front, model-turned-debutant actor Muzammil Ibrahim disappoints. He tries hard but fails to impress. He looks like he is still walking the ramp. His character needed a powerful actor, and Muzammil looks miscast.
Gulshan Grover [Images] and Anupam Kher [Images] are brilliant, however, as is Tulip Joshi [Images].
M M Kreem's music is passable. The only song worth a mention is Tanha Dil Roya Re.
Dhoka has a relevant story, but is truly disappointing in the execution department.
Rediff Rating:

Want to see this movie? Check out Rediff Movie Tickets!