August 30, 2007 12:22 IST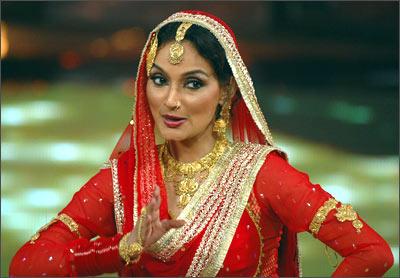 We asked readers to tell us if they had grown up or studied with movie or television celebrities. And we got a great response!
Sharing his memories is Anand Gopalan, who studied with Rajeswari Sachdeva. 
I was in the same batch as Rajeswari (her name in school was Raj Kaur then) in Little Angel's School in Sion, Mumbai.
She was very talented and used to mimic most of the heroines. I remember once during our 10th class camp, we were sitting around the campfire, when she started mimicking a line from a movie. It went like this: 'Main tume pani pila pila ke marungi.' She would say it in Rekha's [Images] and Hema Malini's [Images] style. It was fun.
After school, she went to Khalsa College. Later, she started appearing in Shyam Benegal's [Images] movies. We knew her dad was a television actor and that he had appeared in the Nukkad series. It is good to know someone from our school has done so well in the entertainment industry.
Grew up with a star in the same neighbourhood? Studied with them in school? Had a star friend in college? Hung out at the canteen together? Bunked classes? Maybe even hit on the same pretty people?
What were they like? What did you think of them then? Did you ever foresee their success?
We look forward to hearing from you.