Advertisement
August 30, 2007
Can't get enough of your favourite Bollywood stars? Need a quick gossip fix?

Then you've come to the right place. Read on as our very own starcrossed BPI (Bollywood Private Investigator), dishes out the dirt about our heavenly bodies.

***

Bhansali ki baat

My friend Ganpat is grinning from ear to ear after watching the promos of Sanjay Leela Bhansali [Images]'s Saawariya. I pricked his pride saying I couldn't understand it. He shooed me away, saying SLB's films are not meant to be understood; they are just to be felt.

When I retorted why couldn't I ever spot a life-like bedroom or house in an SLB film, Ganpat shared this secret: Seems SLB had a tough life post his teens living in a single room with his mother Leela and sister Bela. The room served as the hall, bedroom and kitchen.

For many years, Leela used to sew clothes to support her family. While Bela would step out quite often, SLB was a loner at home, munching his thoughts, lost in his own world, raging at the world.

That's the reason why Bhansali's films are set in ostentatious, larger than life surroundings. And that's why he spent almost Rs 30 crores -- that's Rs 300 million! -- on sets alone in Saawariya. Hmmm, can't blame SLB demanding 14 crores as his fees for his next film, can we?

***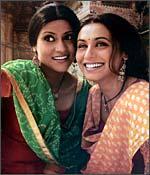 YRF's reality show
My friend, the paneer supplier to YRF, has a very interesting tale.
Seems that the discussion these days at the cafeteria is no longer which wig suits Rani Mukerji [Images] -- the one in Ta Ra Rum Pum [Images] has been blamed for the dismal show of the film and recommended for a burial below the Bandra-Worli sealink; fingers are also crossed for the multi-wigs Rani wears in Laaga Chuneri Mein Daag, right.
Nah. The discussion these days is about, gulp, researching a good realistic topic to make a film on. Shimit Amin's Chak De! India has made Siddharth Anand and Shaad Ali think different, sorry, just think. The paneer supplier tells me that Jaideep Sahni, who wrote Chak De, is hotter than any kebab platter that YRF's canteen serves.
***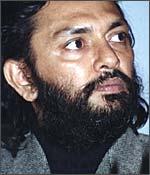 Sab Dilli 6
In New Delhi if you ask, 'Dilli 6 se aaya hai, kya?" apart from the reference to Old Delhi's pin code, in slang it means 'Why are you acting smart?'
Rakyesh Mehra, who grew up in the same ramparts, must be asking the same question about Bollywood's new age heroes.
Before Rang De Basanti [Images] was made, Mehra had met Shah Rukh Khan [Images], Hrithik Roshan [Images] and Abhishek Bachchan [Images] numerous times to connive them to act in it. As Amitabh Bachchan [Images] himself confessed, "We (AB & son) must have heard Rakyesh out about 15 times. But we could not figure out the film."
It's a similar trial for Mehra as he goes about casting for Dilli 6. Even Ranbir Kapoor and Siddarth are not convinced by their role.
Last heard, Mehra was talking to Orlando Bloom [Images] and Ewan McGregor's agents. Methinks, when Dilli 6 opens in the theatres, all our heroes above would look like fools again.
***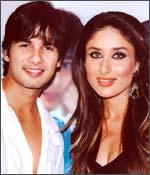 Bebo's take
I am not too keen if Shahid Kapur and Kareena Kapoor [Images] are still a couple or not. What I find more interesting in how Bollywood works.
Take, for instance, this tidbit from Manali. Shahid and Kareena were shooting for Imtiaz Ali's love story. Before and after every shot, Kareena would walk up nonchalantly, deliver her lines pronto, and stand there chatting with the crew. But Shahid, with his method school of acting, would literally drive everyone nuts. He would closet himself, concentrate, nitpick, and study in great detail every move in the film.
When in doubt -- be it a specific scene and many a times even Manali's fickle weather -- he would call dad Pankaj Kapoor. My source, who almost choked on his adrak chai, wonders if mobile firms could only transmit genetic talent...