August 29, 2007 13:41 IST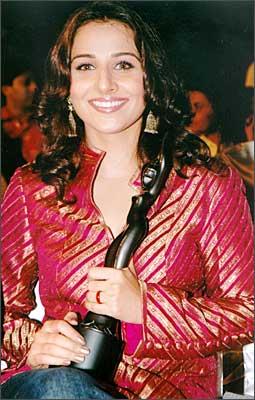 We asked readers to tell us if they had grown up or studied with movie or television celebrities. And we got a great response!
Sharing her memories is Averyl D'sa, who studied with Vidya Balan [Images]. 
Vidya and I studied together from kindergarten to Standard 10 at St Anthony's Girls High School in Chembur, Mumbai. We were also in the same college, St Xavier's; she was in the Arts stream while I took Science.
When I was scanning my school album some days ago, I was shocked to see the transformation. Nobody would have recognised Vidya in the picture.
She was a bindas girl full of masti and would compere all our major events in school. We knew she would rock in the entertainment industry as she had this spirit and determination. 
It was her dream to appear on screen and that is why she enrolled at Prithvi's theatre school. After college, I did not get the opportunity to meet her in person due to her busy schedule but was in touch with her over the phone. I keep track of her performances and religiously send her SMSes before her film releases. I also give her feedback post release.
A very religious girl, I remember bumping into her every Wednesday when she would visit a temple near my house.
She may be a late entrant in the film industry but she made her presence felt in a short time through her hard work and simplicity. A major transformation from her Hum Paanch character to the Parineeta [Images] gal. In fact, it was a delight to see her in the various commercials before her break into movies.
I feel very proud of her whenever I see her onscreen. She has put in so much of hard work and it's finally paid off.
Grew up with a star in the same neighbourhood? Studied with them in school? Had a star friend in college? Hung out at the canteen together? Bunked classes? Maybe even hit on the same pretty people?
What were they like? What did you think of them then? Did you ever foresee their success?
We look forward to hearing from you.
Don't Miss: Stars Readers Studied With