| | |
| --- | --- |
| Soha Ali Khan | |
| | |
| | |
| | |
| | |
| | |
| | |
Advertisement
August 28, 2007


You have seen him as the loveable Sameer in Dil Chahta Hai [Images], an irreproachable flirt in Hum Tum [Images] and as the ruthless villain 'Langda' Tyagi in Omkara [Images]. Now get to know the real Saif Ali Khan [Images] through ones who know him best, his younger sisters -- Soha Ali Khan [Images] and Saba Ali Khan.

While Soha is already following in the footsteps of mother Sharmila Tagore and her brother, kid sister Saba designs custom-made jewellery.

On the occasion of Raksha Bandhan, the two sisters spoke about their brother. First up is Soha, speaking about Saif. 

How was your childhood with Saif, Soha?

There's a 10 years gap between bhai and me. So I wasn't around when he was really young. But I've always known him to be very mischievous. He has a great sense of humour and always manages to crack me up.

I didn't live with bhai much when I was young. When I was growing up he was in a boarding school abroad. And when he started his career here in Mumbai, it was my turn to move out and see the world.

So you guys are close now?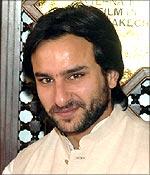 Definitely. When I moved back to India, more specifically when I moved to Mumbai, I lived with bhai for sometime. Within the last three to four years, I've got to know the real Saif and I can honestly say I get him now. I understand the person he is.
We are friends. I can talk to him about anything. But he's still my big brother and continues to look over me. He is very protective about Saba and myself.
Bhai and I have a lot of similarities -- we look alike, we talk in the same manner, and we've had same education. But our differences lie in our core personality. lets just say my sister and I are perhaps a quieter version of him.
So did Saif try to get you into trouble as kids?
I don't know about Saba, but he wouldn't dare with me. I was too young. He would have been in greater trouble if he had tried.
What is it about him you like best?
His great sense of humour and restless energy. I mean, you can only try and keep up with him.
Early on in his career Saif, had hit a rough patch. Were you in touch with him then?
Of course. We as a family have always been there for each other. I've watched all my brother's films. But initially, I was sort of away from the whole Bollywood thing. But I've always supported bhai in whatever he did.
Saif is an experienced actor; do you ask him for professional advice?
I'm very lucky that I have my mother -- who was such a great actress -- and my brother as family. Of course, I take benefit of that fact. I read scripts with them. We have discussions and I take in their inputs and advice about how to play a role.
But in the end when it comes to actually signing up for a role, it's my own decision. And bhai is very respectful of that.
Your brother was abroad when you were younger. Did you visit him in UK?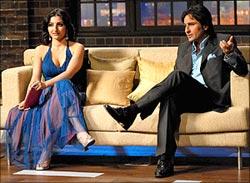 Of course. I used to always look forward to my school summer holidays where Saba and I would go and meet bhai. It was exciting spending those two months with him. I always thought he was cool, with his long hair. We would watch him play cricket at his boarding school. He would take us out for dinner with his friends. Exciting times for a kid!
Do you guys celebrate Rakhi?
Yes, we do. And always have. But it's not an elaborate affair. We've always kept it simple. It's more about acknowledging the day and my big brother. Lately we've been busy in our separate lives. But if we both are in Mumbai around this time I make it a point to meet him.
Saba, who is six years younger than Saif, speaks up next:
How was Saif as a kid, Saba?
He has always been this boy with uncontrollable energy. He was so mischievous. Always up to something naughty, running around all the time. It was hard to keep up with him. But we always had a good relationship. He's always been a very protective brother.
Early on in his career, Saif had hit a rough patch. Were you in touch with him then?
I've always been there for him, since Parampara through his rough patch and now when he's such a huge name in the film industry. He's always had my support. And to be honest, even through his rough patch, bhai came up with some good hits like Main Khiladi Tu Anaari and Kachche Dhaage.
He had to struggle to find his place in the industry. He's worked really hard and he deserves all the credit. I was so excited and proud when he won the national award for Hum Tum or any other award for that matter. I've watched every movie of his.
Do you think Saif has changed over the years?
Yes, I mean, everyone changes. You grow as a person with every new experience. But the core of him hasn't changed a bit. He's still mischievous, still has a great sense of humour. He's a lot more mature now but the boy in him is still very alive.
And as an actor he's grown in leaps and bounds. The kind of roles he does are so varying, it's very difficult to typecast him and that's the best quality an actor can have.
Did you and Saif fight as kids?
We fought over silly things. Like if our mum and dad were not at home we would argue about who would get to take the car out. Or for instance in his absence I would be the older sibling to Soha so I would be in charge and when he would come back home from school for holidays we would clash over who's in charge of the house.
They were really small, silly fights. But of course Saif's our big brother, bhai was always in charge but never bossy.
Did Saif try to get you and Soha into trouble?
(Laughs) He never really got the chance! He was so good at falling into trouble. Soha and I spent most of the time trying to bail him out of trouble.
Your brother did his schooling abroad. Did you visit him in the UK?
Yes, every summer vacations. We spent two months with him. We watched him play cricket at school. He would take us around the town for outings. Those were great times.
Do you guys celebrate Rakhi?
Yes. I'm in Delhi now so sometimes I'm unable to meet him. Last two years I mailed him Rakhis. Someway or the other I ensure he gets a Rakhi from me every year.
He might get it late but he does get it every year. We are not always able to meet but I always make it a point to acknowledge the day by calling or messaging him. And bhai's very generous with gifts, it doesn't even have to be Rakhi or birthday or a special occasion, he is just very giving that way.