August 27, 2007 13:37 IST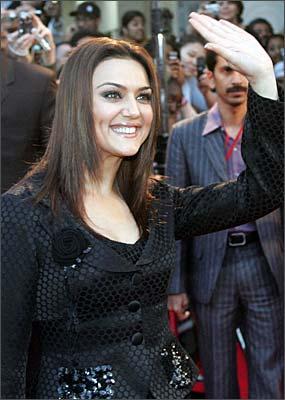 We asked readers to tell us if they had grown up or studied with movie or television celebrities. And we got a great response!
Sharing his memories is Colonel Shrinivas, who was Preity Zinta's [Images] neighbour. 
We live in an Army Housing Colony in Noida. Preity Zinta's mother had a flat opposite ours. Preity's father, an army officer, died in a tragic road accident in Bangalore when she was still in school.
I remember she used to sit in the balcony reading magazines in the sun during winter. In 1996 Preity appeared in the Perk and Liril Soap ads. She became a star overnight after Dil Se.
After a couple of years we met her when we attended the wedding of her brother (also an army officer) in one of the farmhouses in Delhi.
By that time she had become a big star. But she was still the same. She was moving around barefoot, slightly lifting the gown she was wearing. She mingled with everyone and even posed for photographs. She cracked many jokes during the pheras.
Of course, all the guests were watching her more than the actual ceremony! 
Grew up with a star in the same neighbourhood? Studied with them in school? Had a star friend in college? Hung out at the canteen together? Bunked classes? Maybe even hit on the same pretty people?
What were they like? What did you think of them then? Did you ever foresee their success?
We look forward to hearing from you.
Don't Miss: Stars Readers Studied With
Photograph: Getty Images