Home > Movies > Interviews

The Rediff Interview

Maddy on quizzing Narayana Murthy

Shobha Warrier | August 24, 2007



Actor Madhavan [Images] is on a high. Not because of the success of his new film Arya but because of an interview he did on August 17 in Singapore.

This time, he was on the other side of the table interviewing none other than the mentor of Infosys Technologies, Narayana Murthy. The interview was conducted as a part of the 'Focus India Enclave' at the India-Singapore Exposition.

In this interview Madhavan speaks about the unforgettable experience.

It was reported that Narayana Murthy expressed his desire to be interviewed by you at the Focus India Enclave at the India-Singapore Exposition...

I think he didn't have much of a choice! (laughs). It was organised in Singapore and Narayana Murthy was asked whether he would like to give a speech or an interview. He said he preferred doing an interview by Madhavan!

Were you surprised to hear such a request from Narayana Murthy?

Totally. I don't know how I qualified to interview him in any way. But I was not going to lose such an opportunity to meet an idol of mine. It was a dream come true and I just grabbed the opportunity.

Why do you idolise him? Is it because of his entrepreneurial spirit?

There are very few companies like Infosys [Get Quote] in India today, which can compete with any top company in the world, and can also boast of honesty. Like Tata for instance; they are the most honest and respected company in the world today. It is not blemished by any misconduct.

Similarly, Mr.Narayana Murthy too has an unblemished record. What he has achieved in the last fifteen years for himself, the country and his company is most exemplary. And to maintain humility after achieving so much is next to impossible.

Did you prepare yourself for the interview?

Oh yes, I prepared myself like I prepare for a movie, perhaps more than I prepare for a movie. I didn't want to sound like an idiot in front of him. I do keep in touch with the financial sector but for this interview, I did extra preparation.

What did you tell him when you met him at the function?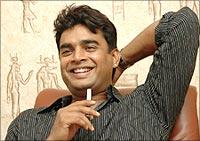 I told him I was a huge fan of his. In return, he said he was a follower of my movies. He also told me that his wife was a huge fan of mine. It was a mutual admiration society more from my side than his.
Did you ask him why he chose you to interview him?
No, I didn't. Whatever be the reason, I felt it was quite impudent of me to ask that and try to flatter myself. I just thanked him for choosing me.
What was your first question?
My first question was: Are you going to ask me questions in return? He replied, 'I am most certainly planning to.' Then, we started off on a very light note. He was very jovial and you can call it a heart to heart interview. By the end of it, we were on 'hi-fying' terms.
What kind of an interview was it? Was it personal or pertaining to the company and the IT sector?
The topic was the future of India with respect to the ASEAN countries in growth, in IT and the financial sector. So, I did not ask him any personal or unrelated questions. My questions were related to the economic growth and the growth of IT in India and the ASEAN countries.
I asked him when China is excelling in the manufacturing sector, India's growth is mainly in the service sector, so, is it possible to maintain the growth rate by concentrating on services alone? Will the bubble burst? He said, we have only scratched the surface and we have a long way to go.
Then I asked him, how long are we going to have only glorified BPOs in the country? We are not developing many software products in India. He said that would happen soon and we have to start making products that are of international quality.
How enriching was the experience for you?
For me, it was enthralling. You are hearing an icon speak with such clarity of thought. It was mind blowing.
Were you asking the questions to understand more about the financial sector, or as a person who follows the Indian economy closely?
Unlike what people think of actors, we also follow what is happening in the country minutely. My business depends on it. I don't think I let down my pedigree of people with my questions.
I remember Mr Narayana Murthy commenting that I only work as an actor but actually I am a financial expert disguised as an actor!
Did Narayana Murthy ask you any questions?
He wanted to know who my favourite heroine was. He asked that question in front of my wife! I told him very safely that my favourite heroine would always be the heroine of my first film, Alai Paayuthe. That is Shalini. Ajith [Images] and Shalini are very good friends of mine even today.
Yes, a very safe answer...
He can't get any answer smarter and safer than that!
Then, he asked me how I met my wife Sarita. It seems his wife, Sudha Murthy and my wife share a lot in common, both being Maharashtrians. Both are from the same village. In Kolhapur, Narayana Murthy and me are called the sons in law of Kolhapur! Sudha Murthy is a former Tata employee and my father was with the Tatas. I am also a Tata person myself.
It was a fun interview and we had some very good questions and answers later.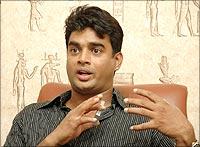 Didn't you ask any personal questions?
I did. I felt he and Sudha Murthy looked madly in love even now. I asked him, despite becoming one of the richest and one of the most successful men in the country, how he still maintains such a romantic relationship with his wife. His answer on romance, I dare not repeat now because I want to use it in one of my movies. I have never heard romance so technically described.
Now let me ask you about your recent release Arya. Arya is a typical commercial masala film, which many feel is not a Madhavan film, quite different from the kind of films you used to do earlier. Why do you act in such films?
All those people who write reviews of my films like Arya in English write that they don't expect these kinds of films from Madhavan! The fact is I don't care about what they say because I have given a movie that would satisfy the commercial market and the distributors. The film is a hit.
Tell me what is a typical Maddy movie? I feel it is a movie that makes money. You cannot hold a dagger at my throat and say that I make movies you like. There are other people also who like my movies.
Is it to reach out to people that you act in such films?
Of course, it is. There is a certain section of my audience who want to open their shirts and dance, who want to shout my dialogues, who want to throw money at the screen, who want to sing my tunes. I have to think of them also.
I can do a Kannathil Muthamittal, which will get a fantastic review on rediff, but those who come to the theatre and watch the film in a small town are different.
When Thampi came out, everybody gave a bad review except the Tamil press and when Rendu came, nobody had much to say about it. When Arya came, it was also described as an okay film. But all these films are super hits. When Anbe Sivam came, there were fantastic reviews but the film was a flop. I get more recognition and money when I do films like Thampi, Rendu and Arya.
If you walk with me in Madurai, you can see people who call me Arya! They tell me, 'What dialogue delivery, what style, what songs!' That's what they want. Hearing them is the biggest achievement.
An A centre guy won't even go to see a movie if he doesn't like the promo, whoever the actor is. Whereas the B. and C centre audiences are loyalists. They watch the films of their favourite heroes again and again. I haven't built that audience for a long time.
So, I have to indulge myself in a film, and do three films for my audience. Till now, it was in the reverse ratio.
When did you realise that you have to build B and C centre audience?
I realised this because of the nature of the A centre audience. For example, everybody claimed Nala Damayatnhi was a fantastic film but what happened to the film? Anbe Sivam is described as a fantastic film but it was a commercial failure.
So, it is like understanding the market and catering to it..?
Absolutely. Research is needed before launching any product whether it is Pepsi, Coke or a movie and ultimately, it has to be marketed well.
Photographs: Sreeram Selvaraj