August 23, 2007 13:06 IST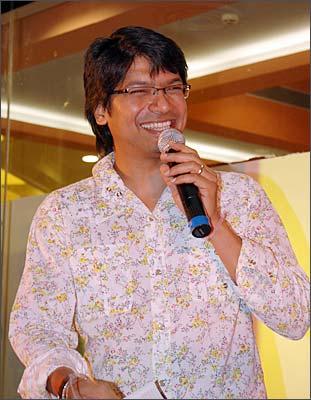 We asked readers to tell us if they had grown up or studied with movie or television celebrities. And we got a great response!
Sharing his memories is Harsha Trivedi, who studied with Shaan. 
Shaantanu Mukherjee aka Shaan was one year senior to me in Jai Hindi College, Mumbai.
I remember him as a very friendly and down-to-earth guy with no attitude. He was always smiling and was popular in college for his singing and stage presence.
It was really an enthralling atmosphere when Shaan was on stage. His voice and performance during the college's events left us totally charged up. Many of us rocked to his tunes.
We did know that he would make it big one day and I am very happy to see that he did make it.
Grew up with a star in the same neighbourhood? Studied with them in school? Had a star friend in college? Hung out at the canteen together? Bunked classes? Maybe even hit on the same pretty people?
What were they like? What did you think of them then? Did you ever foresee their success?
We look forward to hearing from you.
Don't Miss: Stars Readers Studied With