| | |
| --- | --- |
| A still from Buddha Mar Gaya | |
| | |
| | |
| | |
| | |
| | |
| | |
Advertisement
August 17, 2007 16:54 IST


Director Rahul Rawail would give the late comedian actor-director Dada Kondke stiff competition in his latest film, Buddha Mar Gaya.

The film revolves around a business family headed by Laxmikant Kabdiya (Anupam Kher [Images]), who dies while in bed with a struggling actress (Rakhi Sawant [Images]).

His demise is untimely; his company has an Initial Public Offering of Rs 5,000 crore due in two days.

His family is both happy and sad on learning about LK's death. Happy because they will inherit his booty, and sad, because his death will adversely affect the company's IPO.

It is not easy to keep LK's death a secret as many vested interests are out to botch up the family's plans.

Besides, the media is eager to find out what's going on.

The characters include a servant (Paresh Rawal; a complete waste of his talent) and a bisexual swami (Om Puri [Images]; Purisaab: Must you do such roles?).

The usually consistent Ranvir Shorey too disappoints in a brief part.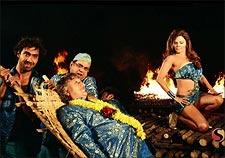 The only actors well cast are Prem Chopra as a music baron and Vinay Pathak as a doctor. But their cameos end quickly.
Rakhi Sawant in her skimpy outfits has very little to do.
Director Rawail's fantasies are appalling; he shows a rocket taking off or injections dripping whenever Rakhi is in bed.
The film's tag line, 'You will die laughing' should have been 'You will die crying'.
It's about time Rawail, who once made decent films like Betaab, Arjun and Dacait, retires from direction.
Rediff Rating: