August 16, 2007 19:36 IST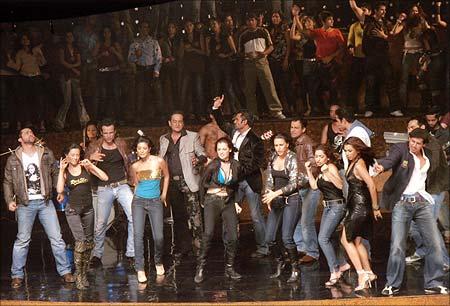 A far away out-of-work mill-cum-studio had a huge overflow of movie stars assembled for White Feather Films' next, Dus Kahaniyaan.
For the first time, filmmaker Sanjay Gupta has brought a mixed bag of six filmmakers and 32 actors to make 10 different stories.
The cast include Shabana Azmi [Images], Bipasha Basu [Images], Naseeruddin Shah [Images], Arjun Rampal [Images], Suniel Shetty, Dia Mirza, Manoj Bajpai [Images], Masumi Makhija [Images], Jimmy Shergil, Aftab Shivdasani [Images], Minnisha Lamba and Neha Oberoi.
Each story is short and unrelated to each other, or so they claim. Since the trend of different concepts and unique ideas have made a successful entry, this one seems to fall in the same category.
But hopefully, it won't borrow the same stories as that of a French film by the name Paris, je t'aime (Paris, I love You), which had 20 stories joined together by 22 directors.
Rain showers at the Cinvesta studios, Kanjur Marg (in suburban Mumbai) didn't seem to hamper the schedule for the title song of Dus Kahaniyaan. The entire cast was expected to be part of the promotional song shot over a span of two days. It was directed by Hansal Mehta.
First up was Dia Mirza, looking stunning for signature Sanjay Gupta upbeat, disco number. Dia walked in the studio dressed in tight jeans and a half-buttoned black shirt, covering a blue bikini top. The huge space had a stage set with another higher level for Dia to stage her performance.
It's funny when the film songs appear -- the whole sequence flows with such ease. Dia took many takes to get her four lines right. At first, she kept missing the lines. The song director, Gourov Dasgupta, wanted more energy from the actress. A few takes later, Dia was done.
Next up was Manoj Bajpai. Four out of 10 films directed by Sanjay Gupta is opposite Manoj Bajpai for an 11 minute feature called Zahir.
Manoj and Sudhanshu Pandey (also part of Dus Kahaniyaan) had already arrived with their dancing shoes. It was surprising seeing Manoj in a peppy, disco number. Dia was to join him later. Meanwhile, Manoj was hard at work practicing his moves.

"I really like dancing," said Manoj, smiling between his takes. Since the song had a young and hip vibe to it, his attire included a tight tee and jeans. 
The actor mingled a lot while co-star Dia made her appearances for her takes only.
Sanjay Gupta, the man of the hour, made an appearance too but after greeting the crew, he sneaked back into his vanity van and stayed there.
And with just two down and another 30 to go, it looks like it is going to be a very long two days before the song finally gets done.
Text: Ruchi Naresh | Photograph: Pradeep Bandekar