Salman ignores Vivek Oberoi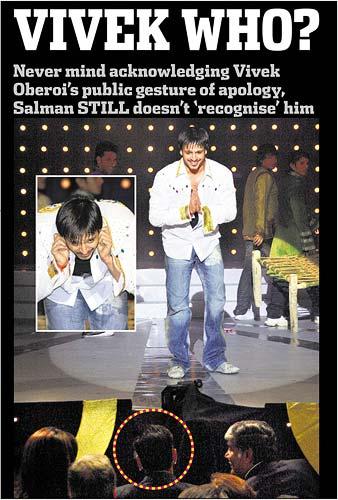 Mumbai tabloid Mid-Day had an interesting report about Vivek Oberoi's [Images] tryst with Salman Khan [Images] over the weekend. We reproduce it here, with kind permission from Mid-Day.
Salman Khan can neither forget nor forgive people, who he believes have wronged him in the past. And that's specially true for Vivek Oberoi.
At the 10th Rajiv Gandhi Awards function held at the Jamshed Bhabha Theatre, NCPA, last night, Vivek was on stage, and had just finished performing to Beedi Jalaile with Koena Mitra [Images], when on his way out, he stopped before Salman (seated on the front row) and suddenly, without warning, put his hands together and bowed before him.
Says Vijay Kalantri, chairman of the reception committee of the awards, seated next to Salman, "Vivek grabbed his (own) ears and bowed and mouthed 'bhai'. But Salman just shook his head."
When MiD-DAY called Salman and narrated the incident, the actor refused to acknowldege Vivek's identity. "Who are you talking about?" When we said Vivek, he said, "Vivek who?" Naturally, we said, Vivek Oberoi. And he shot back, "Vivek Oberoi, who?"
Irritated, he added, "Please don't call me for such things. I thought you had called me for the Salman Khan Foundation."
The actor then abruptly hung up.

A friend close to Vivek confirmed the incident had occurred. "It was a spur of the moment thing. Vivek suddenly decided to bow in front of Salman and smile at him. But Salman smiled back."

When asked whether the gesture was indicative of an apology, the friend added, "Vivek is all-heart. He is also impulsive and spontaneous. The gesture was not premeditated. It was a cute, let's-forget-the-past gesture. Vivek has always been gracious about the whole incident."

Earlier too, the Oberois had gone to meet Salman's mother, Salma Khan at Leelavati, when she was ill. Vivek also allegedly patched up with his co-star Arbaaz during the shooting of Shootout At Lokahandwala. In fact, two years ago, Suresh Oberoi had met Salman on the sets of a film and asked him to let bygones be bygones. But Salman has refused to let matters die.

Says a source, "The organisers of the Rajiv Gandhi awards function had kept Vivek's performance as the last one. Thereafter, the award ceremony began. So naturally Salman was present. I think the organisers were expecting some tamasha and wanted something to happen so that their show becomes exciting. And it did."

Adds Kalantri, "Shilpa Shetty [Images], who was seated next to Salman, requested him to acknowledge the apology and forgive him, but Salman shook his head and ignored Vivek." Both Salman and Shilpa were awarded for excellence in cinema and entertainment.

The Vivek-Salman story

Things have been sour between Salman and Vivek since long. On April 1, 2003, Vivek had called a press conference claiming that on the night of March 29 that year, a drunk Salman had called him up on the phone 41 times to abuse him. Salman, he had said, also threatened to come over to his house and kill him.

He said Aishwarya Rai [Images] (Vivek's then girlfriend, who was earlier involved with Salman) had also received a number of abusive text messages on her cell phone.
Text Courtesy: Upala KBR, Vickey Lalwani, Nishant A Bhuse. Photograph: Yogen Shah