The man who inspired SRK in Chak De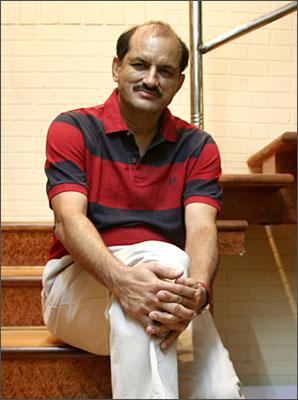 Shah Rukh Khan is reaping the rewards of playing it differently.
At a time, when the nation seems gripped by cricket, the actor has chosen to play coach of an Indian women's hockey team in the just-released Chak De! India.
A story of shame, disillusionment, and glory at last, has hit the right note critically. A tale of how we forget our heroes and continue to condemn accidentally-perceived villains.
It belongs to a soft-spoken man from Indore, who was sentenced to 16 years of misery and national censure only because he chose not to speak.
Pakistan beat India 7-1 in the final of the 1982 Asian Games. The blame for the collective loss came on one man -- Mir Ranjan Negi.
For a nation looking to make sense, the shocking result, after India started as favourites, the most damning thought took root. Someone raised his hand, pointed a finger at Negi and labelled him a traitor.
'He was offered one lakh for every goal he let in,' said the Hindi edition of the now defunct newspaper Blitz, concluding that the Indian goalkeeper sold himself for seven lakh rupees.
There was no defence from Negi. His teammates, though Negi assures, stood by him, did not defend him either. The Indian hockey Federation, embarrassed by the whole situation, dropped the goalkeeper like a hot potato. The allegations were thus justified.
"Wherever I went people used to say, 'Oh! you are the one who took money'," recalls Negi.
He never again wore the India colours. His house was attacked. Mid-way through his wedding ceremony in Indore, power was cut-off and the rest of the function took place in darkness.
"I cannot tell you what I went through at that time. I was scared to go out of my house. I grew a beard so that people would not recognise me. My relatives would take me around and introduce me as a national goalkeeper, they did it all innocently not knowing how much it hurt me."
But the soft-spoken man lived with that hurt for 16 years, never once abandoning the game that was the cause of his downfall.
Then, one day, came a reprise came in the form of an offer to coach the Indian goalkeepers for the 1998 Asian Games. As fate would have it, India won the men's gold after beating South Korea via the penalty shoot-out. Ashish Ballal, who was not in the goalkeepers' camp and who had been brought in on Negi's insistence, emerged hero.
Negi then went on to help the women's hockey team win the gold medal in 2003 Afro-Asian Games.
But, still, none of all this success vindicated him more than the movie Chak De! India has.
After facing the fury of the nation, none could have moved the country more than a film, India's biggest mass medium, on Negi's despair and eventual triumph.
"But I don't think the movie covers even 10 per cent of what I went through," says Negi, who not only coached the hockey players to help them play their part to perfection, but helped the filmmakers with visualising and making the story-boards.
Even so, "It is Shah Rukh Khan's [Images] film," he insists. "I don't want to be a hero."
Text: Deepti Patwardhan | Photograph: Reuben NV