Promo Watch: Lagaa Chunari Mein Daag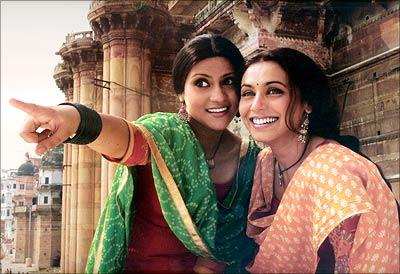 Families happy enough to almost be dipped in sepiatone, one more time.
Pradeep Sarkar's Laaga Chunari Mein Daag promo opens with a spunky Tashan song -- mouthed by a bright Konkona Sen Sharma [Images] and the reliable Rani Mukerji [Images] -- that wouldn't have been out of place in the director's Parineeta.
The scenes are of immense sisterly jubilation alongside the ghats of Benaras, and give way to a stunned homely Rani transforming into an gaudily dressed, flashy Rani. Then come the Yash Raj Film titles, and we're in a big city carnival, Abhishek Bachchan [Images] grooving with Rani before the actress is thrown onto discotheques, beds and what look like the sets of Umrao Jaan [Images].
So as families embrace -- and Jaya Bachchan naturally sobs -- Rani is shown sinking into the amoral life. Apparently, the film is about her downward spiral into prostitution. And apparently, this means bathtubs and towels to the filmmakers.
Meanwhile, the fun pair, Konkana waves to Kunal Kapoor [Images], flying a bright yellow byplane. They ride bikes, speedboats, sportscars and kiss -- before they YashRaj-edly collide with Rani and Abhi at a shaadi-esque song, that is.
Then come the tears. All the mentioned women enter hysteria, sob on each other's shoulders, Abhishek tosses a pointed line at Rani, she melodramatically sobs back, and we end on the actress toppling a line of dominoes.
Laaga Chunari Mein Daag. From the promos, it's likely to be one for the kerchiefs.