| | |
| --- | --- |
| A still from Kaafila | |
| | |
| | |
| | |
| | |
| | |
| | |
Advertisement
August 10, 2007 17:48 IST


Sunny Deol's latest film, Kaafila, includes a lot of things that people may not know. Here's a list:

* Did you know that when Deol says, 'Mera vatan mera imaan hai, meri maa hai,' he isn't referring to India as you would expect? No, Deol takes a break from his anti-Pakistan ways most pronounced in Gadar: Ek Prem Katha, and plays a Pakistani intelligence officer from the notorious Inter-Services Intelligence in Kaafila. And he is referring to Pakistan as his vatan.

* Did you know Taliban still rules the Afghan border with Pakistan?

* Did you know the real Malta boat tragedy happened in Greece and 350 illegal immigrants died? Kaafila shows those poor immigrants watching a Bollywood item number when the sea engulfs them.

* Do you know what the Taliban looks like? Kaafila makes them look like Indians wearing fake beards.

* Did you know why illegal immigrants want to live abroad? Apparently, because they love their families and want to make them rich back home. Interestingly, in the film, they don't bother to make any phone calls or write any letters despite the fact that they are stranded in Russia [Images] for at least six months.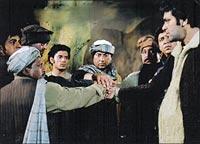 * Do you know how to store deadly plutonium? The film shows a scientist carrying a dark green test tube, containing a liquid. 
* Did you ever see a large diamond worth lakhs of rupees? That's what Deol donates to his illegal immigrant brothers.
* Did you know there is a straight road from Pakistan to India, which the Indian Army and Border Security Force is not aware of? Kaafila director Ammtojee Man knows its exact location!
* Do you know why Sunny Deol wants to help Indian immigrants reach London [Images]? If not, watch Kaafila. And do let me know the answer.
But if I were you, I wouldn't dare to watch this poor excuse for a film.
Rediff Rating: