August 08, 2007 13:14 IST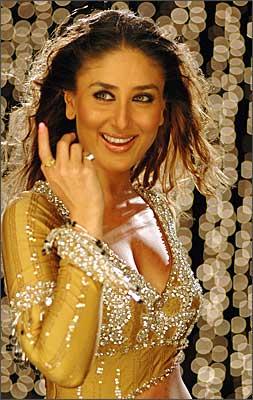 We asked readers to tell us if they had grown up or studied with movie or television celebrities. And we got a great response!
Sharing her memories is Sakshi Singh, who went to the same tuition classes as Kareena Kapoor [Images].
Also read: I studied with...
Mallika Sherawat | Sushmita Sen | Vidya Balan | Madhu Sapre | Shamita Shetty | Aishwarya Rai | Celina Jaitley | Shah Rukh Khan | Sakshi Tanwar | Shahid Kapoor | Isha Koppikar | Sonu Nigam | Anil Kapoor | Ajay Devgan | Shaad Ali
Kareena Kapoor used to live with her sister (Karisma) and mother (yesteryear actress Babita) at Mumbai's suburban Lokhandwala Complex, a few buildings away from my residence. She used to come to my building for her tuitions daily. Back then, she was a chubby and very cute kid with glowing red cheeks. Everyone called her tamatar (tomato).
She would come in a car -- a Premier 118 NE -- even though she lived right next door. Only rarely, would she walk to my building.
I was introduced to her by a common friend, and I still remember her saying 'hi' very sweetly and modestly.
Everyone waited in our building to catch a glimpse of the kid sister of the already-famous Karisma. Kareena was already a star for them, even though she was just a 15-year-old kid, coming to learn maths.
Incidentally, Kareena is still in touch with the tuition teacher and sends her premiere tickets for her movies.
Grew up with a star in the same neighbourhood? Studied with them in school? Had a star friend in college? Hung out at the canteen together? Bunked classes? Maybe even hit on the same pretty people?
What were they like? What did you think of them then? Did you ever foresee their success?
We look forward to hearing from you