August 06, 2007 14:08 IST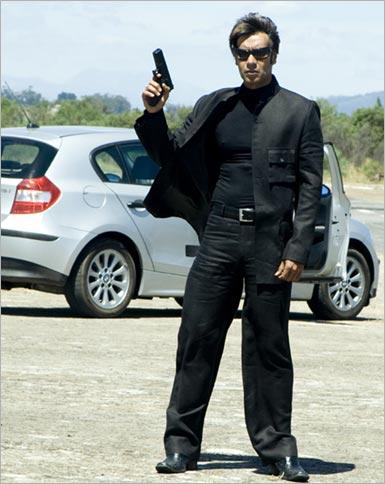 We asked readers to tell us if they had grown up or studied with movie or television celebrities. And we got a great response!
Sharing her memories is Alvina Sreekrishna, who studied with Ajay Devgan [Images].
Also read: I studied with...
Mallika Sherawat | Sushmita Sen | Vidya Balan | Madhu Sapre | Shamita Shetty | Aishwarya Rai | Celina Jaitley | Shah Rukh Khan | Sakshi Tanwar | Shahid Kapoor | Isha Koppikar | Sonu Nigam | Anil Kapoor
I never thought even in in my wildest dreams that Ajay Devgan -- whom I knew as Vishal Devgan then -- would become a superstar. We studied together at Silver Beach High School, Juhu.
Though his dad was related to the movies (Veeru Devgan is a noted action director), he was like any normal guy.
Coincidentally, we shared the same birth date, April 2, and would wish each other on our birthday. It was nice to be able to say 'same to you'.

He was a quiet boy but was very mischievous when the teachers were not looking. It makes me feel good that I studied with such a star.
Grew up with a star in the same neighbourhood? Studied with them in school? Had a star friend in college? Hung out at the canteen together? Bunked classes? Maybe even hit on the same pretty people?
What were they like? What did you think of them then? Did you ever foresee their success?
We look forward to hearing from you