Home > Movies > Interviews

The Rediff Interview / Sreenivasan

Meet the communist in Arabikkadha

Vijay | August 03, 2007



Epithets fall short when the discussion is about Sreenivasan. He is an actor who is equally at ease playing serious roles or comic acts.

He's a scriptwriter who has carved a niche for himself narrating some serious themes in a genuinely entertaining way. He has also directed two films, Vadakku Noki Yantram and Chinthavishtayaya Shyamala, which have been appreciated for quality and depth, and of course, humour.

And now, this flavour of the season talks about his character, Cuba Mukundan in Lal Jose's Arabikkadha, his singer son, Vineeth Srinivasan and his other projects.

Arabikkadha shows you as a devoted communist. Are you one, offscreen too?

(Smiles) You better call me a humanist. I am more concerned about the people around me. Their worries make me uncomfortable and I want the system to support their lives in an effective manner.

At the same time, I believe that as an artist, it is not fair to be too politically biased. My politics are expressed through the films that I write. That's why doing Arabikkadh was a great experience because I got to associate with like-minded people.

You never feel like reacting to issues as a citizen?

What can a lone individual do in our society? I am doing what I can within my limitations. I am looking forward to the development of the society as a whole. There is no point if only I get more prosperous while people around me continue to suffer. Cuba Mukundan is a representative of such thoughts.

Your films discuss serious issues in an entertaining way. Do you feel more excited while enacting characters like Cuba Mukundan?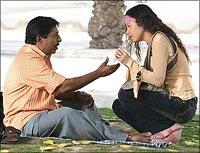 As an artist, I am here to get involved in meaningful films. But that does not mean only films like Arabikkadha should be made. If you give an overdose of such films, the subject will become jaded.
I have been involved in theatre right from my childhood days where entertaining the viewers is definitely the duty of an actor. So acting in roles like these gives a high for the actor.
Did you ever feel that such a story should have come to your mind first when you heard it?
Never. It was Dr Iqbal Kuttippuram who thought about the character from such an angle. He is responsible for the birth of this story and the character. I was involved in the making of this film and for me that is more important. As a film buff, I want such films to happen, and they don't have to be necessarily scripted by me.
You have earlier enacted the role of a communist in Sandesham, which was scripted by you. How different a person is Cuba Mukundan from that?
My character Prabhakaran in Sandesham was actually an opportunist who was looking forward to move ahead in the ranks without sacrificing much.
But Cuba Mukundan is absolutely devoted and is a staunch follower of the party diktats. If Sandesham focussed on a particular family, Arabikkadha zooms in on Cuba Mukundan's life and through him, the party set up during our times.
Now you come more often as the protagonist, recent examples being Yes Your Honour, Thakarachenda and the upcoming Ayur Rekha [Images]. How do you feel about the added responsibility?
Such things rarely come to my mind. I am looking forward to fresh thoughts and I would love to do more good roles.
There are rumours about the fourth part of Nadodikkaattu (with Mohanlal).
I am not aware about the project as of now and no one has approached me for it.
Your earlier films are still viewed and discussed by the audiences in a major way. Which of your films do you think is the closest to your heart?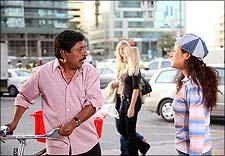 There are quite a few. Varavelpu has a special place in my heart because it was inspired from my own father's experiences. I'm watching the film again after 14 years since it's release in 1989. There are some scenes that mean a lot to me and made me cry. It also made me think about the strength of the thoughts during those days.
You are acting and writing the script for your forthcoming film to be directed by debutant Mohan. What is the film about?
The film is about the strength of real friendship.
Vineeth, your son, is all set to be launched as a hero after establishing himself as a singer. What was your advice to him on the decision to become an actor?
It is never easy to face the camera, especially for the newcomers. Acting in plays in school, which my son had a penchant for is different from acting in films. Everything is more intricate, like the close up shots, where every movement of your face will be reflected in a much larger way. You also have to react the right way and performing in a subtle way is perhaps the most challenging part in acting.
You have directed two films, Vadakku Noki Yantram and Chinthavishtayaya Shyamala, which won the Kerala [Images] State and National awards. Any plans to direct more films?
Direction is perhaps an added responsibility where I will have to be involved in everything even after the release of the film. I decided to direct these two films after my producers persuaded me to do so. I think writing is the toughest part of it all.

As an actor, once you fall in the right track, it is comparatively easy whereas the feeling you get when you write is entirely different and of course, more fascinating.