| | |
| --- | --- |
| A still from Naya Daur | |
| | |
| | |
| | |
| | |
| | |
| | |
Advertisement
August 03, 2007 14:03 IST


This is the classic tale of Man v/s Machine. And no, this is not some rehashed version of The Terminator or The Matrix. It is, in fact, a simple film that was made in India in 1957 about the triumph of human spirit and the victory of the underdog.

After 50 years of its first theatrical release, B R Chopra's evergreen classic Naya Daur is back in a splendid colourised version that showcases the film in all its shining remarkable crowning glory. Also, the pulsating remastered Dolby digital surround sound adds a new dimension to the film, especially during the exciting race at the climax

The story is simple and social, relevant in so many ways even today.

We are introduced to the welcoming people of a sweet little Indian village called Karanpur. This isn't the typical farmers' village that thrives on their agricultural exports.

In fact, Karanpur survives on the magnanimous working ways of Seth Maganlal (Nazir Hussain), who finds his happiness in the prosperity of his village and its inhabitants. Maganlal owns a huge timber factory that employs half the village while the other half pride themselves transporting people in rickety-rackety tangas. 

Happy go Lucky Shankar (Dilip Kumar) is everybody's favourite tangewallah, who lives life to the fullest. He is funny, charming and an incorrigible flirt. His heart beats faster than the hooves of his galloping horse for the village belle, Rajni (Vyjayanthimala). Shankar's best friend is a woodcutter named Krishna (Ajit), who works in the mill. Unknown to Shankar, Ajit is also in love with Rajni.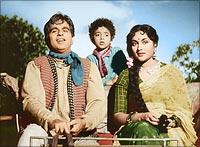 Everything seems to be hunky dory until Seth Maganlal decides to take a pilgrimage and hands over the business to his son Kundan (Jeevan). Kundan has just arrived from the city with a crash course in evil economics and is brimming with ideas to make a quick buck to maximise profits at any cost. In his greed for quick profits, he mechanises the sawmill and immediately fires most of his workers to feed his voracious materialistic appetite.
The weak villagers' pleas fall on deaf ears and in desperation, a mass migration begins. The dark clouds are upon the village and its people and soon, everything goes wrong.
Shankar and Krishna realise that they're in love with the same woman. Further misunderstandings occur and the relationship between Krishna and Shankar gets strained. The two part ways on extremely unforgiving terms.
Krishna, in a bid to hit back at Shankar, hatches an ugly plan with Kundan to ply a bus that would transport the villagers and maximise his profits. Kundan immediately sets wheels spinning and soon, the new machine destroys the tangewallahs' livelihood. Shankar tries to reason with the new scheme, but instead, is challenged by the arrogant Kundan to a race. If the tonga beats the bus, it stays. Shankar accepts the challenge and that's where the fun begins.
Krishna takes it upon himself to inspire the villagers to build him a shortcut that will ensure their victory and their livelihood. Soon, construction of the 'Naya Daur' begins. It's not rocket science to guess the outcome.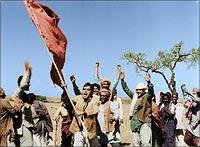 Technically, the film looks first-rate courtesy of Westwing Studios (USA) that achieved the digital colouring using a host of processes and skilled technicians. Apparently, the only surviving composite 'dupe' negative had to be physically restored from dirt, dust, frame perforation tears and mishandling.
The effort has got to be witnessed and applauded only on the big screen.
Performances are first rate and it isn't a surprise that Dilip Kumar won the Filmfare award for this film. His chemistry with Vyjayanthimala is so natural; you can almost believe that the two are completely meant to be.
Music by O P Nayar is soothing and melodious and further enhanced by sparkling lyrical compositions.
This film is a lot like the modern day epic Lagaan [Images] in many ways in its unabashed innocence and explosions of song and dance to celebrate every triumph. It also has enough hurdles and conflicts to draw a simple clash between underdog heroes and overambitious Goliaths to almost three hours of unceasingly entertaining melodrama.
And if that's not enough, it even takes on bigotry, prejudice and the narrow-mindedness balancing delicately on the boundaries of Indian culture. This isn't just gallery entertainment at its best nor is it history or a social commentary either.
It's just a film that's been made with an innocent yet fervid conviction that's completely racing on filmmaking passion. And this one isn't taking any shortcuts.
Rediff Rating: