Advertisement
August 03, 2007


His latest partnership with Salman Khan [Images] in Partner revived his flagging career and propelled him into the limelight. Now, Govinda is all set to make sure that the film's success isn't just a flash in the pan.

The actor-turned-politician talked about his career and much more with BBC Hindi India Editor, Sanjeev Srivastava, on Ek Mulaqat, a weekly chat show on Radio One. The show will be broadcast at noon, on Sunday, August 5.

SS: For a long time, you have been referred to as 'the boy from Virar'. Do you like that or feel that it's enough now?

G: Some things get attached to you and somehow, they are kept alive too. This tag of 'the boy from Virar' was said very fondly. My father used to say that at least thanks to this you will remain a 'boy' even in your old age. I believe that there's a reason behind every thing that is attached to you. You must understand that reason and keep moving on in life.

SS: I think the reason behind this phrase must have been to say how far you have come.

G: You say that out of the goodness of your heart. Everything has a reason. In what sense a certain thing was said and what comes of it also matters. Talk is just talk. Sometimes it has something to do with actions and sometimes not.

SS: Tell us about the early days of your career -- how did you struggle in the industry? Of course, your first film itself was a hit.

G: Our struggle went on for many years. My father used to be a hero in films. Mehboob Khansahib gave him a break. My mother used to be a classical singer but there was a phase when my family was in trouble.

Being from an artist family, we were alright in terms of culture and society. When I saw my mother working, I thought that I should also work. I started thinking of working at the age of 13 and that's when my struggle began. I started going to producers for work at the age of 14-15. They would say, 'you're too young, if there's any work for you we'll let you know.'

I used to go and sit at Rajshree Productions and Shantaramji's office. I finally got work at the age of 21 when I had completed my B Com (graduation). I had come to live with my uncle Uday Narayan Singhji. Ravi Chopraji gave me my first break. I met him through Gufi Paintalji. A person called Avinash took me to Ravi Chopraji and I worked for a clock brand called Allwyn. My first cheque was for Rs 4000 or 4500. I bought my mother a sari and some boxes of sweets with the money.

After becoming an MP, I started my work with the local trains. I have a long association with local trains. I was returning on the local train when I met a sadhu. He asked me, 'is your name Govinda [Images] and have you got some work today?'

I thought he must be a well-connected man; the news has already reached him. But then he said, 'you are going to your mother.'

I asked him how he knew all this. He said that my good time was about to begin and that I will meet many gurus in different fields and I should always respect them. Saying this, he got off at the next station. I reached home and handed the cheque to my mother.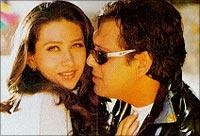 The first time I sat in a plane, I felt weird. We used to live in a village and run after all the vehicles that used to come into the village. And if a plane would fly over our village, we would watch it for a long time and then discuss it at length. Then we started shooting in Kashmir and the whole cycle of work began. My first film was Tan badan, then Love 86 and then Jhoota Ilzaam. Love 86 was the first film I signed. And it's been on since then -- Love 86 happens sometimes, so does Jhoota Ilzaam!
SS: The way films used to be classified as art films or Manmohan Desai type films, there was a time when films used to be called Govinda-type films. How do you feel hearing this?
G: I did many serious films at a very young age, and so, I became sort of tired. Actually, characters used to influence me because I used to immerse myself in my work. I saw an interview of Dilip Uncle's [Dilip Kumar [Images]] where a doctor told him to do comedy films so that he would keep in good health. Then I did a film called Intezaar with him. My mother said that if you get a chance to touch his feet, you must do so.
I met him in his room and chatted with him. I understood that the work you do shows its effects on your personality. I did comedy films and enjoyed my work. Now, I'm in that image. Sometimes, I like it and sometimes it causes problems. The artist in me is trapped in this image and is struggling. But all said and done, I'm happy with this image. Now everyone has entered this genre and is trying their hand at comedy.
SS: Looking at you, I feel that this isn't just about acting. Your personality itself is happy-go-lucky. People say that Govinda is known for his timing. Was it like this always or did you have to work hard at it?
G: I achieved everything with hard work. I wasn't always a dancer. I saw a John Travolta [Images] film called Saturday Night Fever and started learning to dance. I used to get broken tape recorders and would play around with them and practice dancing. Ram Masterji taught me action without charging me anything. Sarojji didn't take a dance fee, and Roshan Taneja didn't charge me any fee for learning acting. I was very committed, so they must have thought that a new enthusiast has come and wants to passionately immerse himself in the art.
I also tried to keep that intact. The way property is lost, the same way, the environment around you tries to drain your moral fibre -- preserving that is a disciplined act and I kept that in mind.
SS: When you started going around asking for work, who was the person who believed in you?
G: I think a man has the will to work, and a way of behaving lovingly, which I had in me. Perhaps that's why everyone supported me. There were very few people who didn't support me, and I can count them on my fingers.
SS: Tell us their names.
G: No. They gave me energy too. Every obstacle gave me energy and I am thankful to them. I went through a phase when everyone wanted to help me. Maybe it was because of my uncle Uday Narayanji. I used to get Rs 5 from his place every morning, and I used to set out with that every day. Those days you got tea for 95 paise and I used to take roti and butter. My mother said, 'don't stop having milk and butter,' so my face keeps glowing.
I never ate spicy food. From the offices of Gufi Paintal and Ravi Chopra to Rinku Rakesh Nath's office, I got nothing but support and work. Even if I didn't get work, I got respect and a cup of tea for being the son of senior artists. Even those who said negative things about me also said there's a fire in me, and that if I returned after six months, I could get work there.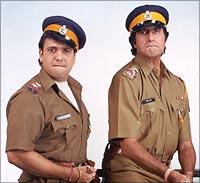 SS: You believe in your mother a lot? I have always heard you mentioning your her.
G: I have blind faith in my mother and I am proud of it. I got the impression that mother is working a lot. That's when the faith began and I decided that I won't let her work any more. I got my energy from the fact that whatever happens I have to work now, and that's how I became Govinda.
SS: I like a lot of your songs. Tell us some songs you like from your own films.
G: My music directors shouldn't take offence but I needed to do those songs -- they weren't my choice. I am the son of a classical singer. If you want to play a song from my films, you could play the song from Jaisi Karni, Vaisi Bharni. It was a song about parents, Sabse Badi Pooja Hai Mata Pita Ki.
SS: A lot of your initial films were with Neelam. Was there a particular reason for that?
G: The neelam [sapphire] stone also brings some people luck, and it seems Neelam also had the capability to brighten the future. She is a very good actress. I was appreciated a lot with her -- she was English and I was desi. Then I worked with Karisma Kapoor -- she was also very English, and I was very desi. Now, in Partner, I am working with Katrina Kaif [Images] -- again she is English and I am desi. I feel my stars match with such people.
SS: Which was your most memorable film with Neelam?
G: There isn't a memorable film with Neelam but there's a song. I went up to Vaishno Devi on foot carrying my nephew on my head. My feet were swollen. I did that song in honour of Rakesh Roshanji. The filming of that song was postponed by a day due to my swollen feet. The next day the song was filmed in just six hours and the song became a hit. Neelam and I presented that song at many stage shows. The song was Mai se meena se no saaki se, dil bahalta hai mera aapke aa jane se...'
SS: Karisma and you were also a fantastic pair. How was your experience of working with her?
G: Some kids become their parents' weapons, especially those who have been through a bad phase. Karisma had also been through such a phase. She did all that her mother told her to do. She was her mother's first pupil, and served her mother well.
Despite belonging to an affluent family, she struggled a lot. I remember we were doing a song Husn Hai Suhana -- and there was a step where she had to walk on her knees. I told her, 'Karisma, let's change the step; your knees will get hurt.' She cried and said, 'No, I will do this step otherwise I will be embarrassed.' And she did it.
There was a stubbornness and an innocence that remained in her. She did everything her mother told her to. I respect such people who respect their parents.
SS: But from what you say, it seems Karisma herself lost something in the process.
G: No, that's not what I'm saying. Relationships can't be measured with gains and losses. Where there's gain, there are losses too. A good artist should love someone very deeply and purely. I believe that that's where they get their energy from.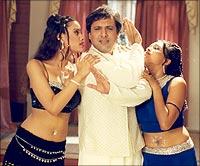 SS: Do you get heartbroken by the comings and goings of those you love deeply or do you move on?
G: Comings and goings are momentary. Your family, friends and people in your social circle are with you. Sometimes things work out, sometimes they don't, but I don't carry the weight of these things with me. I am not that kind of a coolie.
SS: Many of your films like Coolie No 1, Hero No 1 were big hits. Didn't you ever have the impression that you are number one?
G: A person, who emerges after struggle, has an unwanted pressure on him. That was the case with me and so I never thought that I am number one. This was to my advantage also -- I kept learning from my co-stars and slowly reached where I am today.
SS: Your favourite actor?
G: As an actor Dilip Uncle. As a hero, Dharmendra [Images]. And in the newer era, Amitabh Bachchan [Images]. They are great icons.
SS: After a long time, I've heard a fan of Dharmendra's.
G: I have yet to see as handsome a hero as he -- once he comes on screen, you neither hear his dialogues nor notice the location -- you just keep looking at him. And he has maintained himself even now. His personality is very attractive too. Someone who works so hard automatically becomes attractive. He has had a great impact on village boys.
SS: Your favourite actress?
G: Madhuri Dixit [Images].
SS: How did you get the name Chi chi?
G: In Punjabi, the little finger is called Chi chi. My father kept this name and my mother liked it a lot. Every time she should get a statue of Lord Krishna carrying the Govardhan Mountain with his little finger, she would say that my Chi chi will become a chi chi like this.
SS: I didn't know you are Punjabi. There have been Punjabi superstars in every generation.
G: We are artists and appreciate art. We respect the land where we belong. Art expands a person's personality. My mother is from Benares so you can see more of Benares in me. All my UP films have become superhits.
SS: Which actress did you like being paired with?
G: I enjoy watching myself. I am a selfish artist. I keep seeing myself -- I see if I have improved myself or not; am I looking bad? Actresses I work with tell me that only if I get out of myself will I be able to see anyone else.
SS: But star pair?
G: I liked the song that Amitabh Bachchan and I did with Madhuri Dixit in Bade Miya, Chote Miya. I was so happy when I saw that song that I whistled. There are Allahabadi, Punjabi and Marathi colours spreading all over that song. After this song, my uncle called from Benares to say, 'yes, now you have became a fairly good artist.'
SS: You and I are both fans of Amitabh Bachchan. But I feel that you were better than Amitabh in Bade Miya Chote Miya.
G: I don't feel so. It is my misfortune that this was inculcated in the public's mind. I saw politics in this. You are made a competitor to someone who is an icon and whom you consider an elder brother, guru and part of your family. Some people wanted that these two should not get along.
SS: When two people work together, it is commonly discussed.
G: But an issue was created and the attempt was to ensure that these people should not work together in future. The chance I got to work with him, the satisfaction I got from it, I am very grateful to him for that. What I learnt from him while working with him, I put into practice in my daily life.
SS: Any of your favourite actors who you worked with?
G: From the point of view of learning, Dilip Kumar and Amitabh Bachchan. And from the fun angle, my peer Sanjay Dutt [Images], and more recently, Salman Khan. Our films were made all in fun, and are now ready to be released.
SS: How do you like being criticised?
G: If the critic is honest, then he's the best friend. If he's dishonest, then he's just a part of society. Critics are very energetic, and dishonest ones are business-like. They do what they feel is profitable to them. My focus is on my goal.
SS: And what is your goal?
G: Good work -- because of which I became a Member of Parliament. The power of that work I take inspiration from and am always ready to serve.
SS: How did you enter politics? Are you happy with it?
G: Happiness and unhappiness is a non-issue in politics. The issue here is: are you together or not? One keeps happiness and unhappiness aside and thinks of unity, and this means a lot to me. One thing is for sure -- I am a man of my words.
Whether politics drenches you or not, it keeps your feet wet. It's to be seen how much it troubles or satisfies you. Being an artist we look at ourselves as pupils. It was my elders' wish that I join politics and I did. 
SS: People say that here also Govinda arrives late like a star.
G: I tell them that you wanted a star and worker. A worker has his limitations. I have never shown any 'stardom'. I went to every hut and every drain. I contributed to the party as per my capacity and my thinking. I think and move; I don't move and then think. My thinking isn't mine alone; it includes the advice and blessings from elders.