Home > Movies > Interviews

The Rediff Interview / Feroz Abbas Khan

'Gandhiji hasn't been portrayed negatively'

August 03, 2007



After directing a string of successful plays like Salgirah, Salesman Ramlal and Gandhi Viruddh Gandhi, Feroz Abbas Khan is ready with his first film, Gandhi My Father.

Khan tells Girish Rao more about the film, his friendship with Anil Kapoor and whether Akshaye Khanna will sweep the award functions next year.

Why did it take you so long to direct a film?

Before Gandhi My Father, I felt that I wouldn't be able to make a film. In fact, the thought of making a full-length feature film never crossed my mind.

So, which is better: film or theatre?

I have made only one film and its fate will be known only after its release. As a matter of fact, I still consider myself a theatre director. I guess I will be in a position to come to a conclusion only after I have made at least two or three films. As of now, I feel both the mediums are equally good.

You have chosen a rather difficult theme and a radical subject for your debut.

Yes, the subject is definitely intricate. The tough part is that if you don't follow the specified norms, it might go anywhere.

I researched the subject thoroughly before I started shooting and fully understood the facts. The sacrifices, which Gandhiji gave for the society and the country was far greater, compared to what he did for his family.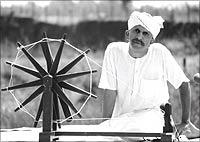 But at the same time, he also had a family and this needed to be told. My Gandhi is different from Attenborough's Gandhi, who was a public figure, and Raju Hirani's Gandhi, who was more of a social figure. My Gandhi is a family figure and you will see the whole image of him in this film.
As the film delves into his family, aren't you afraid of raking up controversies?
Nowhere in the film has Gandhiji been portrayed in a negative way. In fact, I showed my film to few members of the Gandhi family and Tusshar Gandhi wept after seeing it. I was really touched when he told me that the film was made by someone who understands the family's values and principles.
Nowhere in the film has any allegation been leveled against Gandhiji. As far as controversies are concerned, I just have no control over them.
How do you think the film will be received?
I think the way Gandhiji has been shown in the film, it reflects his image of a nation builder. At the same time, we have also shown his human side.
What about Akshaye Khanna's [Images] performance?
Akshaye has done a wonderful job and his performance is among the best seen in recent years.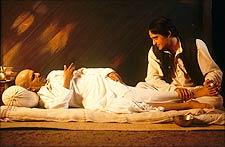 What about Anil Kapoor? How is he as a producer?
We have been friends for years. It's not a relationship between a producer and a director. Though our responsibilities are different, we have worked like friends.
Tell us about the Ahmedabad experience.
The film was shot in sync sound, and a period film just cannot have modern sounds. When we were shooting in Ahmedabad, there would be 4,000 to 5,000 people on the set. And they were there because of Anil Kapoor. So I requested him to do us all a favour and go back to his hotel. He spent most of the time there and used to call us if he was needed on the sets.
What next?
There are two to three plays that I'm very excited about. It been many years since I did a play. I will decide only after Gandhi My Father is released. Then there is the script of my second film, which is already done.