| | |
| --- | --- |
| Ajay Devgan in Cash | |
| | |
| | |
| | |
| | |
| | |
| | |
Advertisement
August 03, 2007 13:42 IST


They say money talks.

Cash evidently believes in brevity. A Little Less Conversation, as the King sang. Except in this film, the next line is cruelly paraphrased to: A Little Bore Action.

We're perfectly fine with senseless action movies. I put my feet up and completely grooved to Anubhav Sinha's last effort, Dus. Sure, it's a loopy ride, but we aren't looking for logic if the rollercoaster's fast enough. It's a genre Bollywood largely overlooks, and if it doesn't make sense, who cares? Neither does Die Hard.

So this review isn't a tirade against plot holes or item numbers -- we're more than used to overlooking both. We're not even going to assess the bloopers. It's just that this time the action -- which frequently flipflops into amateurish animation -- leaves you distinctively sleepy. The stunts are strictly okay, at best. And that just isn't done.

In essence, there are three diamonds, and six people -- capering around fancy sounding international airports -- out to get them. Fair enough. So let's have a fun and fast little heist shooter, shall we? Um, not quite.

The film moves sluggishly, pausing and slowing down to introduce its motley crew of insignificant crooks, with names like Uncle and Doctor. Each character is mentioned, zoomed into, and turned into a rough cartoon -- which looks better than the original, for sure, with bizarrely recoloured hair. So Riteish Deshmukh suddenly goes bright blonde. This happens a half dozen times as the plotless film continues to unravel.

We wait, schooled by many a heist film (or ripoff), for the set-up to end. Basically, we should meet the gang, know the heist, and have a little bit of backstory, all before the end of Act I. In Cash, the introductions bewilderingly go on and on past the interval, after which a climax is haphazardly slapped onto the film. Oops.

The debris from this disastrous film -- not to be confused with a disaster film -- will most affect the actors. Ajay Omkara [Images] Devgan turns into modern-day Shekhar Suman, all bicepped and unbuttoned and awfully wooden -- sigh, what price an actor pays for jumping from a helicopter. Diya Mirza's [Images] completely wasted, as is Riteish, who'll feel the maximum impact from this turkey. Finding a foothold as an interesting actor, this overwritten dialogue sees him falter, bad.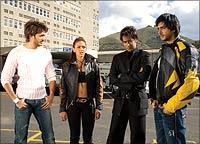 Conversely, Esha Deol [Images], Zayed Khan [Images] and Suniel Shetty, of course, are lucky to be cast in anything. And Shamita Shetty [Images] actually does well in the film, keeping a straight face and showing off her abs without looking ridiculous.
And a big grouse: the prettiest member of the crew is conspicuously absent from the opening credits; and the most talented actors in the film -- a maitre'd, an airplane passenger -- are kept away from the promos. Reprioritise, dude.
Is the film a rip-off? It's hard to imagine, considering there really isn't the remotest stab at a cohesive story. And while that was the case with Dhoom: 2, the wow-factor was slick enough. Here we stifle a yawn.
There is the occasional smart moment -- radio controlled airplanes, a man with a 'blurry' face -- but the scenes are stretched out, made overlong. In an attempt to milk a scene's potential, the film constantly overstays its welcome.
Cash could have been a ride -- if only they paid half as much attention to the script as they did to the title song.
Rediff Rating: